April 2022
A two-in-one treat this month with our Boss Babes for April! Welcoming the ladies from Girl Guide Toronto to share their journey with us…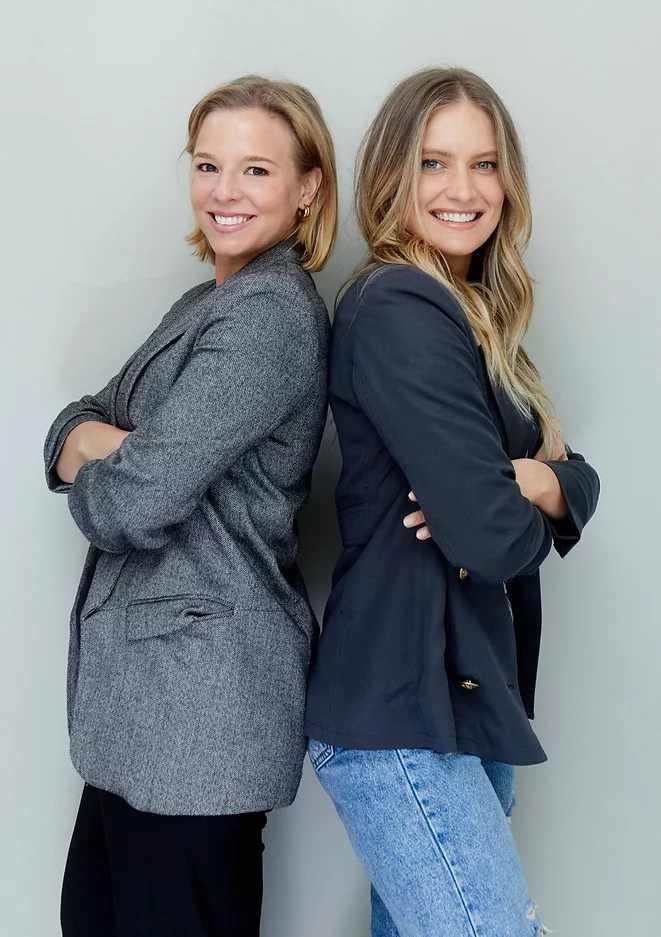 Vanessa and Courtney – the lovely faces behind GIRL GUIDE TORONTO. Can you share with us a little about what "Girl Guide Toronto" is and how you got started with this business?
Girl Guide is a full-service brand management agency with a wealth of experience in brand design, social media strategy and digital marketing. At the beginning of the pandemic, many small businesses in Toronto had to pivot and put their company and retail products online. We were approached separately by numerous organizations with projects and opportunities in this realm – from graphic design and copywriting to social media, to a full brand redesign of a company.
We decided it was the perfect time to put our heads together and start our own business. If we work together, there isn't anything we can't do!
How did you come up with the name for the company?
​We thought of the name "Girl Guide Toronto" because we guide you through your brand journey from start to finish. The original girl guide is a woman with a broad skill set. She reflects her accomplishments by wearing her badges, each one representing a different achievement. This is who we are. This is what we want our business to represent.
How did you ladies meet and why did you feel this was a great opportunity for a partnership?
​We met in 2016 working at an art gallery and event space downtown. We had many clients there – weddings, charity events and corporate events. Clients included Google, Adidas, KPMG, Toronto Fashion Week, and the Toronto Film Festival. We learned a lot about how to market each event. The work was fast-paced, it changed daily and we really had to work together to execute each event and wow each client.
Brand curation is a really niche market! What have you found the most challenging throughout your journey thus far?
​We meet all different kinds of people and most of our clients are entrepreneurs. One of our biggest challenges is to figure out a collaborative working style that works for both parties. Constant communication, managing expectations and organization is one of our biggest strengths. When we first started the company, we thought each client would have a similar path. We found out quickly that this isn't the case. All of our client needs follow a different "Girl Guide Module", and this has been our biggest opportunity to learn so far.
​We all want to know – do you have similar personalities or are you polar opposites?!
We are similar in so many ways! We have similar style, taste and sense of humour. We definitely keep each other laughing all day. Courtney is very organized and keeps us on track with templates and schedules. Vanessa is more creative and sales-driven. That is what makes us such a great team. Our goal when we started GG is to identify ideal clients, learn new skills along the way and to create our dream job.
What do you find makes a partnership work well in business?
​A partnership works well for us and we have worked hard to get here. We have such a broad range of experience. For each project we usually choose one lead for each client. We complement each other in our work styles. Working in a partnership, while its has its challenges, is incredibly rewarding for us. At the end of the day, we always have each other's back.
​Do you have any hidden inspirational sources to generate new ideas?
​We are constantly keeping up with what's happening in the social media world. Like a true Girl Guide, we love to explore different cities, learn new skills, and meet new people. Every new situation creates a new opportunity for us.
What do you do daily to grow as entrepreneurs – both together and independently?
​We consider 'trend forecasters' which means we are constantly monitoring the next big trends. These are some of the top accounts we follow for inspiration:
Work Inspo

Kar Brulhard – @karbrulhart
Gwenyth Paltrow – @Goop
Fashion Inspo
Hailey Bieber – @haileybieber
Women's Wear Daily – https://wwd.com/

Tiktok Trends

TINX – https://www.tiktok.com/@tinx
Valeria Lipovetsky – https://www.tiktok.com/@valeria.lipovetsky
Britt Bostoff – https://www.tiktok.com/@britt.ostofe
Health & Wellness
Mind, Body, Green – https://www.mindbodygreen.com/
School Of Greatness – https://lewishowes.com/sogpodcast/
The Skimm – https://www.theskimm.com/
Laughs
Elyse Myers – https://www.tiktok.com/@elysemyers Not Skinny But Not Fat
Saint Hoax – https://www.instagram.com/sainthoax/?hl=en
Not Skinny but Not Fat – https://www.instagram.com/notskinnybutnotfat/

Do you have a favourite quote/s for describing entrepreneurship?
​"If you build it, they will come" from the movie Field of Dreams.
​Okay this is a fun one! If your lives were played in a movie by two best friends, who would they be?
​Romy and Michele. Although we didn't invent Post-Its, we always order "The Business Woman Special".