June 2022
Tari, our June Boss Babe and the face behind "She Nouveau" shares her entrepreneur journey with us…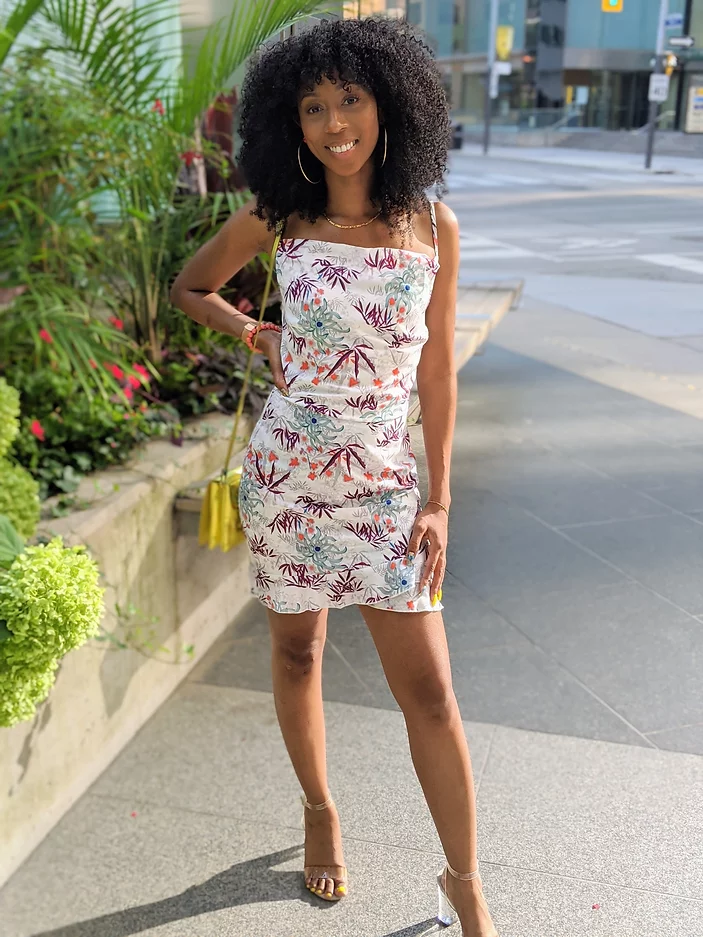 Tari, you are the face behind "She Nouveau", a beautiful and bold jewelry collection right here in Toronto. Can you share with us how your brand got started and what led you to this point?
​It's a long story, but I'll keep it short. 
I'm the youngest of 7. Yes, you read that right SEVEN. I like to think my parents stopped at perfection, tbh. HA!
Growing up with so many siblings, I always got hand me downs, mostly boy clothes. I never had the opportunity to be myself, to be a girly girl. I used to watch my cousins and aunts get dressed to go out to dinners/parties and I always wanted that for myself.
So, once I was old enough to work I got a part-time job and started building my wardrobe. I quickly noticed jewelry gave me the advantage to set myself apart from everyone else. I could wear the same plain jane outfits but dress it up or down depending on the jewelry piece I wore and it really helped minimize my closet too LOL.
I wanted to create a boutique that was accessible and affordable. I mean, c'mon, you don't need to have expensive items to look or feel like million bucks, right?
Where did the name "She Nouveau" come from?
​If you believe it or not, She Nouveau started in 2011. I registered the business name but never really did anything because there were so many avenues I wanted to get into.  My life changed in such a positive way in 2011. It was the year of full bloom for me.
The She represents YOU, Nouveau, french for New, is the version of yourself YOU become once you get glammed. We all feel our best when we look good and that's how I want my customers to feel every time they wear a jewelry piece from She Nouveau. Whether you're dressing up for a special occasion or down to pick up the kids or to listen to a lecture. I want my girlies, and guys, to feel their best. Life is too short to feel any other way.
​Have you always been an entrepreneurial spirit?
​ABSOLUTELY! My father influenced it. He was/is a 'jack of all trades'. He had his full-time 9-5 job but worked part-time with his brother fixing homes and cars on the weekends. And I, being the typical daddy's girl, would tag along with him. He showed me there were so many ways to make an income and have an impact. "There are no limits." he would always say. I don't think I would have accomplished as much as I have throughout my life without him.
I love you Dad.
What have you found has been the most challenging part about being an entrepreneur?
​Oh, mon Dieu!! Can I be honest and say everything? LOL
Everything is a challenge from branding, to marketing, to selecting pieces. I always expect challenges so that I know what I'm getting myself into. BUT, I'm always finding creative ways to work through them. I'm constantly watching videos on YouTube, listening to webinars or taking courses to have an advantage. It's a lot of work, but I'm in it to win it.
​What motivates you?
​The people and watching my brand grow. I would love for She Nouveau to be as well-known as Swarovski or Mejuri one day and that's what motivates me.
Is there someone in your life or a role model that inspires you?
​I don't have one specific person. Everyone and everything inspires me. There's so much inspiration out there, all you have to do is look.
​Considering the fierce competition in todays business world, how would you highlight your companys competitive advantage? What makes it stand out from the crowd?
​I don't like to follow the sheep. I try to avoid doing what everyone else is doing and create my own path away from the herd.
I stand out by being my authentic self. I want to be relatable and connect with people. I think it's very important to have a place where people can hang out and be transparent. I listen and learn from my customers. I work with them to know what they want when it comes to trends and styles. Jewelry is so personal and expressive so I try to give the people what they want.
Whats your favourite quote for describing entrepreneurship?
​You will never cross the ocean until you have the courage to lose sight of the shore.
-Christopher C.
​What has been your biggest achievement so far?
​After a year of operating She Nouveau, I'm seeing the results. I'm building a community and growing my network. I've met so many fabulous people so far and building relationships with them. I'm eager to see where She Nouveau will be next year.
​If you were to write a book about yourself, how would you  name it?
​Rise to any occasion!