April 2021
OUR APRIL BOSS BABE – SHARI – is the stylist queen of Toronto, known for her edgy looks and a knack for being able to put pieces together so incredibly well…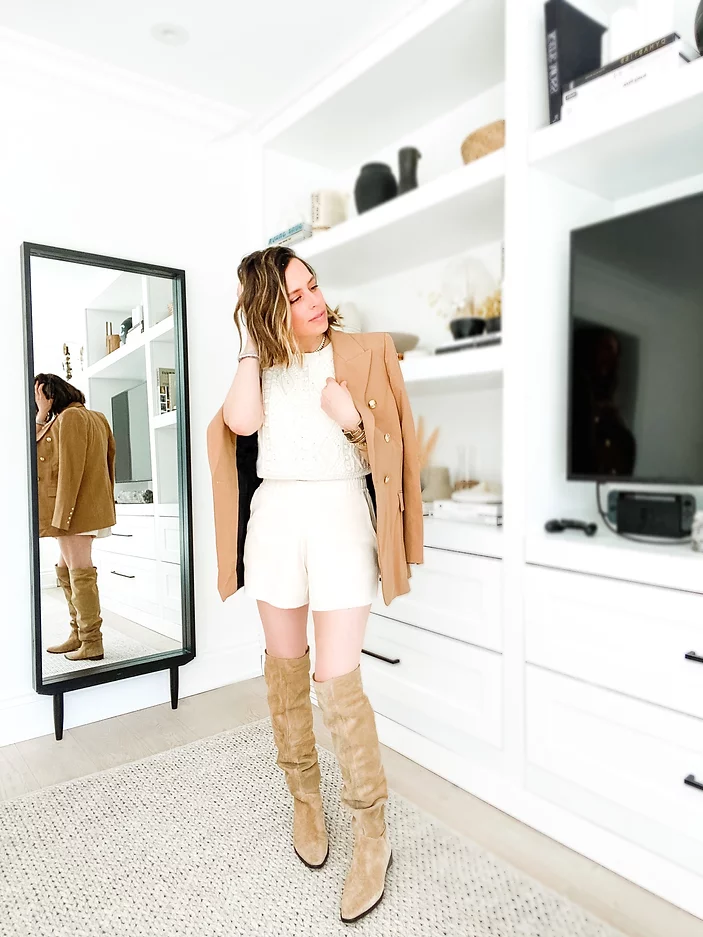 You're very well known as "stylusconcierge" (your Instagram handle) and a personal fashion stylist around Toronto. Tell us about your business and how you got started in the fashion industry?
I have always been passionate about fashion since a very young age.  I would take inspiration from others but always try to personalize it. As I got older and had to choose a path to pursue, I realized that one of my constant passions was always fashion. I loved the creativity it afforded me and that there was an opportunity to express myself by dressing my personality and mood. The most rewarding experience I have working with people is helping them break down the style barriers that they have built for themselves. Often it is necessary to be creative to explore what you are drawn to in fashion, making the journey as exciting as the destination. It's not just about fashion, it's about self discovery. All these reasons combined made me realize that fashion will always feed my soul. 
Where did the name "stylusconcierge" come from?
When it came time to choose a business name, it was important for me to have a name that represented what my business was all about. I don't do just one thing, I cater my services to my clients fashion needs. The word 'concierge' denotes someone that understands clients needs and provides them with personalized solutions & guidance. This resonated with me. The word 'Stylus' was a blending of two meanings and a play on words. It expresses that my focus is an equal balance of 'Styl' & 'Us'. this was the birth of what people have come to know me as now, Stylus Concierge. 
You're also a mom! What are some of the challenges you face juggling being a MOMPRENEUR?
When you are self employed it is both rewarding and difficult but as they say, 'nothing worth having comes easily'! the biggest challenge is TIME and BALANCE! balancing my family time & work life are specifically difficult because of the nature social media, it's 24/7 with no vacations! I am sharing parts of my life with my followers. You may be surprised to learn that I am a very private person so it seems strange that I have chosen this public avenue but I love connecting with people on many levels. I continuously struggle with choosing what to share while trying to keep some things private. 
What would you say has been your greatest professional accomplishment to date?
That is an easy answer, my partnership with Trendsavvy! This was the first true validation of my hard work. The fact that an established and successful business wanted to take a chance on me was the biggest compliment. At the time I think I only had around !500 followers and most of their influencers had at least 10k but some as much as over 100k+! The fact that they were interested in a long term partnership with me when they had no certainty that their investment would be worthwhile spoke volumes to me. They wanted to collaborate with me simply because they liked my personality and vibe which is of the utmost importance to me.  My integrity and authenticity is the foundation upon which I have built my brand. 
Can you describe/outline your typical day?
Each day starts and ends the same because I am a mother first & foremost. Mornings begin with early lazy snuggles but eventually take too long and transition into rushing to get to school drop off on time. After drop off is complete, that is when 'me time' begins. I get ready for the day and plan out the very few hours I am afforded to work before school pickup. I film, edit & post to my social accounts and try to carve out enough time in between to eat a nutritious but quick meal. Pickup is 2:30 so I need to be very efficient with the little time I have before the kids get home. I do my very best to try and have my work complete by the time they get home both because I aim to be present & available but because realistically its near impossible to have any time to work uninterrupted for the rest of the evening. Everyday ends with family meal and quality time with some random life updates on social. Bedtime is always way to late for the kids and for me!
What's one piece of advice you'd offer your younger self if you had the chance?
Know your worth and surround yourself with people that lift you up and don't break you down. Stand up for what you believe in respectfully & unapologetically. Follow your heart in life & love because those are the foundation upon which your life is built. And please, please, PLEASE perfect the art of time management because it will be incredibly helpful later in life!
What is your favourite part about being an entrepreneur?
Being able to be there for my loved ones without asking for permission! There are things I miss about working for a big company but I struggled with needing to be granted permission for time off when it came to family. Family has always come first for me so it was a non-negotiable and I found it especially difficult to accept once I had my own family. I love that I have the freedom now to plan around when I am needed.
Lastly, if you were to be a type of shoe, what would you be and why!
A flip flop sandle. Because even though it is not always practical it is both romantic & uncomplicated. You can dance around in them or kick them off and run through the grass at any moment. This is how I like to go through life, with spontaneity, romance & not always doing what is expected but always grateful that I have shoes on my feet.