January 2021
Introducing Sam from Copy By Her – this bad ass Solopreneur is just starting out in the world of Entrepreneurship, during a pandemic! Bold moves for this babe and we're all for it!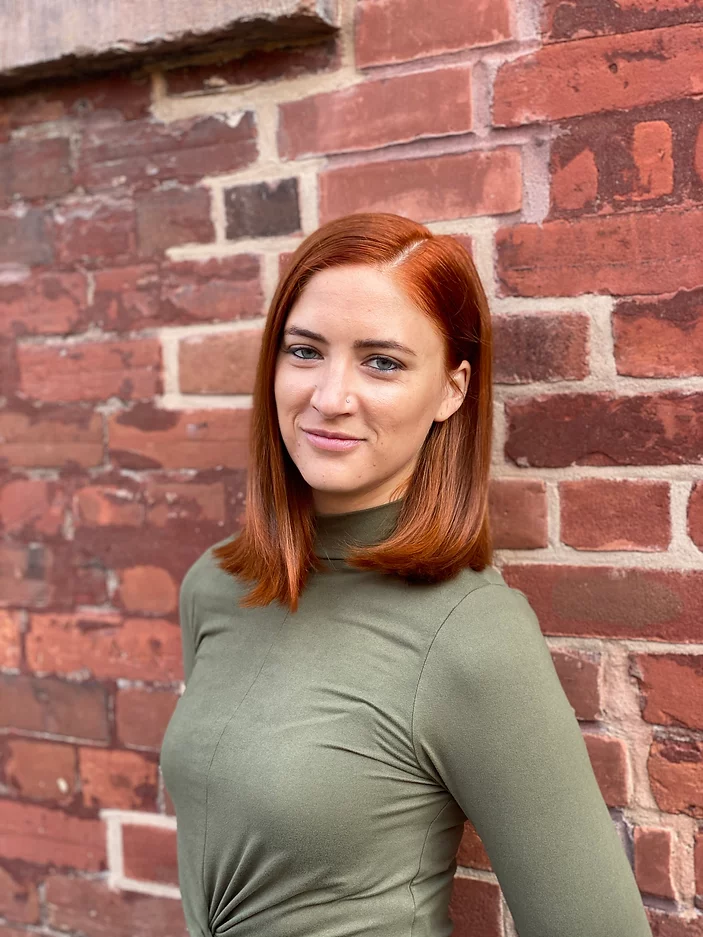 You are the Solopreneur and friendly face we've seen behind "Copy by Her" – can you share with us what you do as a copywriter and the vision behind the brand?
As a copy and content writer, I help businesses speak to their ideal audience by crafting copy and content that sells, is valuable to the reader, interesting to read, and resonates with people. I'm not a fan of pushy sales and strive to help businesses showcase themselves in a genuine and authentic way. I help my clients do this by creating email funnels, ad copy, lead magnets such as e-books, website copy, blogs and more. My brand is largely who I am as a person; I am a feminist, love uplifting women in business, and enjoying being around those who value kindness… but are also kinda sassy. Writing for clients whose values align with mine makes it a magical partnership for both parties.
What made you decide to start your own business?
It was a bit of an emotional journey that lead me to open my own business. And honestly, one I didn't see coming five years ago. Last year I got laid off from my day job and had a lot of time to reflect on what I wanted. I knew that the lifestyle I wanted wasn't going to happen in my previous line of work. So I poured all of my time into honing my skills, thinking through my goals and how I could make this a real thing. At first, I thought I would start my business as a side hustle, but then I had this day when I was about to go back to my day job. I was getting ready to head out to work, and I just burst into tears. I had been spending all this time and energy on what I actually wanted to do, and now that was going to be majorly cut down. I handed in my notice the next day and just decided to go for it. People say you get what you give, and I wanted to give my business my everything and make my dreams a priority. If 2020 taught me one thing, it's "don't wait."
As a new business, adapting to the new pandemic world, what challenges or obstacles have you had to face?
I started my business amidst the pandemic, so honestly, it's the only way I have experienced it thus far. There was an upside and a downside to that. Many business owners had to tighten the purse strings so they couldn't outsource copy work as they may have previously. But, there were also a ton of businesses that pivoted with our changing world, which can mean rebranding, reintroducing yourself to the public, and perhaps targeting a new audience. I also know that 2020 birthed a lot of businesses, so there was (and still is) a lot of newer businesses thanks to Covid-19. Launching requires a lot of copy work if you're really going all in.
Do you have any projects you're working on this year that we can look out for from you?
I have been working with some people in the wellness sector that are launching in the coming months. I'm looking forward to that, as it's something that aligns with my values and that I'm excited to write about. I will be sharing it on my IG when the time comes. I am also currently working on a few free resources for businesses to help them with branding choices and running their own business.
It can be hard to stay motivated, especially as a business owner – tell us, what motivates you?
I am lucky that I have a good circle of people around me who build me up, my husband, friends, and my dog – Kenny. They help keep me on track and pick me up when I need it. But also, I am intrinsically driven. If my heart decides it wants something, I make it happen. Taking care of my well-being through regular yoga, journaling, meditation, and affirmations help me feel motivated from the inside out. At the end of the day, it comes down to me.
What advice or words of wisdom would you give to other aspiring women looking to become their own Solopreneur?
Just start. Don't wait. I'm not saying you HAVE to quit your day job right now. Everyone's situation is different, and you've still got to pay your bills at the end of the day. But so long as you are actively taking steps towards your goals- boom, you're on the right track. Whether you're studying, working on your side-hustle, researching your field, just START. And also, tell people what you are doing! I don't understand the whole "hustle in secret" mentality. In a way, that is something that I used to do, and it was like I was telling myself I wasn't good enough to do it for real and tell people. Everyone starts somewhere. I am good enough, and so are you.
What is your favourite aspect of being a Solopreneur?
Being able to be the decision-maker. People are going to give you "advice" left, right and centre. And some of it is excellent advice; others are just nonsense. Just because something worked for someone else doesn't mean that's how I want to go about running my business. Being able to listen to my gut and let her be the decision-maker is pretty rad. Oh, also being at home with my dog. Me becoming a solopreneur was life-changing for him.
Get in touch with Sam through any of her platforms below!