October 2023
Welcoming Julia as our BB of the month! Starting a brand from the ground up takes serious grind and tenacity…
Julia – you are the creative director and designer behind Jackson Rowe; beloved Canadian clothing brand from Vancouver, BC!  Lets start with the basics. How did you get started as a designer and how did it lead you to here?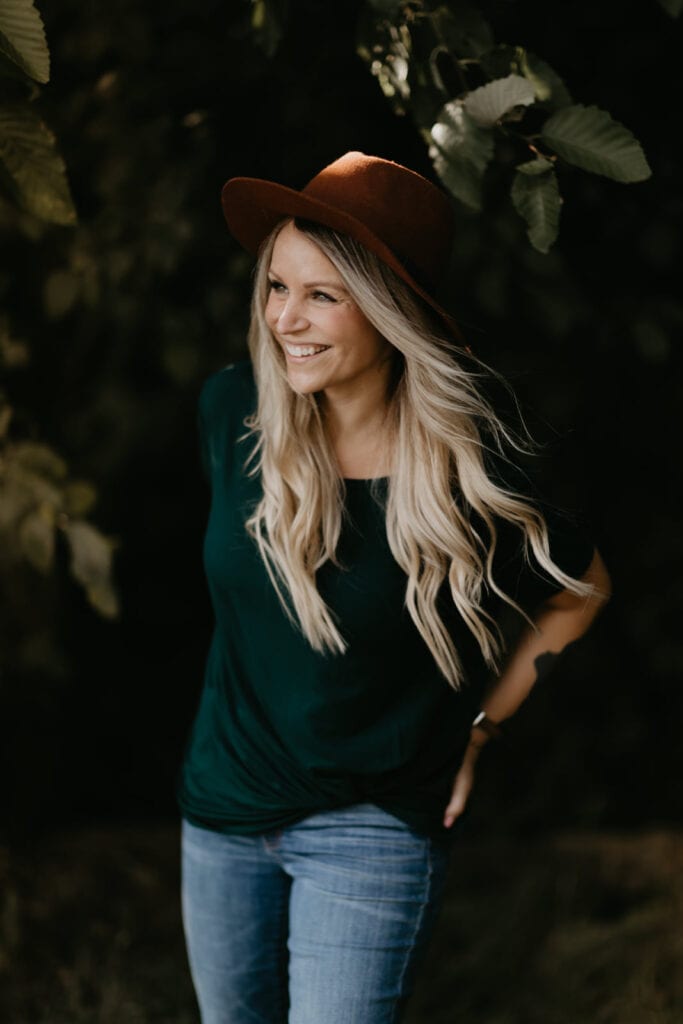 I always loved playing dress up. Growing up my mom would say that I would change my outfit 10x a day. I loved clothing . After high school I started working in retail and I was quickly moved from a salesperson to an instore merchandiser. My mom started encouraging me to go back to school at this point and I enrolled in the Fashion Arts program at Humber Collage. From there I interned at Inside Entertainment and FQ magazine from Kontent publishing . I then got a job as a wholesale clothing rep at Slavin Agency,from there I started my own Fashion agency called Liberty Studio. I loved the job, I loved working with clothing and helping store owners and buyers put together collections for their stores. I wanted to do more than sales so I started buying scarves and boho-ing them up with feathers and tassels , I would have my photographer friend take pretty pictures and I started selling them to my wholesale stores. From that, Jackson Rowe was born.
How did you come up with the name "Jackson Rowe" for your brand?
Jackson Rowe is a marriage of my Grandparents names Jack and Rose. It was 2012 and I was working at a yoga studio at the front desk so that I could get free yoga. I was trying to make my Fashion Agency work and I really wanted to start my own accessory line. I was sitting at the desk and trying to think of names and I just kept thinking about how scarves made me feel. Warm, cozy, wrapped up, hugged, and that made me think about being a kid. It was that feeling I got when I would get out of a swimming pool and my mom is standing there with a towel ready to warm me up and snuggle me. Or when I would be home sick and my grandparents are taking care of me for the day, I would be eating soup and crackers with ginger ale on their couch with my head on their lap. All those memories and feelings of being loved and taken care of were swirling through my mind and I just started saying my grandparent's names in my head over and over Jack and Rose , Jack and Rose and that was when I heard it, Jackson Rowe.
Where did you get your entrepreneurial spirit? 
I think it was almost forced upon me. I have a learning disability and it wasn't diagnosed until I was in college. I was dyslexic and have ADD. I really struggled learning the traditional way, and I would always have to create my own path when it came completing projects and tasks.  I was an ok employee, but I wasn't great because the only way I ever REALLY understood things was if I did them how it worked for me . When I started Liberty Studio and Jackson Rowe I really started to understand myself and get in a groove.
What best motivates you? How have your entrepreneurial motivations changed since you first started? 
The support system of women that work with me is like nothing else. I really feel as though we are all in this together and we fight for each other and motivate each other daily, but I have to say, my kids are the number one thing that motivate me. I think it's so incredibly important for them to see me live my dream and fight for my goals. They see the ups and they see the downs and they see me putting my head down and pushing forward no matter what. They see me believing in myself and not giving up.
What advice would you give to the next generation of female leaders?
To lean on each other, there is enough room in the world for all of us to all have our own little ( or big)slice . If we work together and support each other, we will only learn and grow more.
You have a great team behind you! What has been your way of finding talent and building effective working teams? 
It's a lifestyle at Jackson Rowe, I want everyone I work with to feel like they are a part of a family. I trust them and I hope they trust me. Everyone is very independent, and they take ownership of their role. The last thing I want to do if micromanage anyone . I am so fortunate to work with such leaders and I am proud to call them all my friends.
Do you believe there is a winning formula to becoming a successful entrepreneur? 
Ha ha perseverance and not being afraid of asking for help!
You're also a mom! Is there a key to balancing both worlds? 
That's a tough one, I often feel like im not giving JR 100% of me or I'm not giving the kids 100% of me. All you can Do is your best. I love my kids as hard as I possibly can, and I love Jackson Rowe as hard as I possibly can.
Do you have a greatest inspiration – from past or present? 
Anyone who is kind inspires me , because in the end the only thing that matters is how you treat people.
Lastly, what is your favourite quote? 
"Sometimes things fall apart so that better things can fall together." Marilyn Monroe