November 2022
Meet Penny Light, the shining star in the boutique world…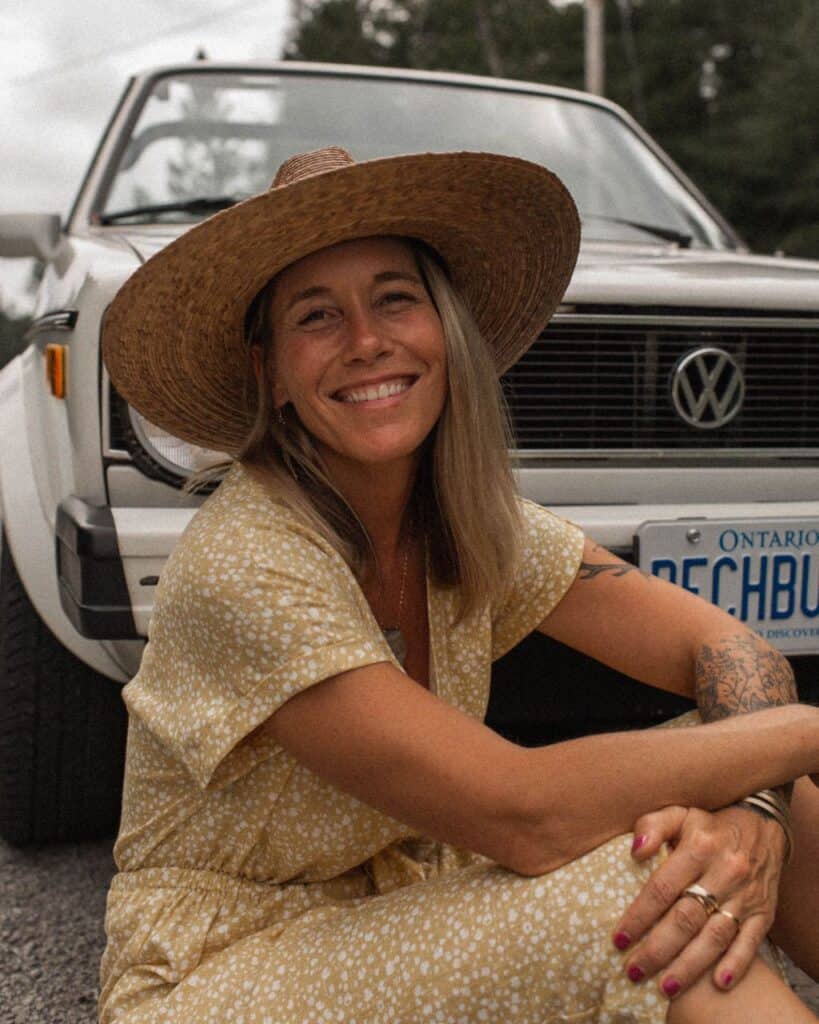 Penny – you are the face behind Grit & Grace, the new multi-boutiques in locations popping up around Ontario. Can you share with us how you got started in this business and what was the drive to open multiple boutiques?
After 19 years in the corporate world, working for some fortune 500 companies, I kicked off my heels, threw down my pencil skirt put on flip flops and a sundress and I moved to Costa Rica (after a previous year spent living in Botswana, Africa).
In Costa Rica I founded a transformative adventure travel company – Live Life Light Adventures and a marketing consulting company working with high-end tourism properties. Whilst there I reconnected with my one true love, a boyfriend I had in my early 20s and we were in a long-distance relationship for about a year. On one of my visits back to Canada, the world came to a rather abrupt halt, as we all know, shutting completely down. The travel industry came to a screeching halt, and in 24 hours all my contracts got cancelled and I was refunding guests who had booked trips with me.
I had left my home in Costa Rica for this one visit not knowing that I wouldn't be returning. After about 4 months when we realized this wasn't ending anytime soon, I had to make the difficult decision to let my home there go. My friends had to pack up my home, and put my things in storage for me, and I was forced to pivot, hard.
It was while shopping for a new Canadian weather-appropriate wardrobe (all I owned were bathing suits and flip flops) that I became disappointed in the Canadian retail landscape for women, specifically women my age, around 47 (ahem).
Let's face it, we're not our mothers, or our grandmother's version of middle age anymore. We're more youthful, light, and wish to express ourselves as such. I came home from shopping feeling worse about myself, not better.
So out of frustration, and in the middle of a global pandemic, I launched Grit & Grace, the first location in Sauble Beach, Ontario. I wanted to curate unique, high-quality clothing for women just like me… and to create a space where women would feel welcome and confident in their own skin. I want Grit & Grace to feel less like a store and more like the home of a great friend. It's why our stores have a cozy, living-room-style seating area – so we can all gather, connect and lift each other up. And sometimes even sip rosé! I also wanted, first and foremost, to create a community, and if in that woman found unique and storied pieces (dresses) that they felt great wearing, and self-expressive in, then even better. In our community, we host book clubs, workshops, yoga, dance classes, private shopping parties, tarot card readings, and more. Sauble Beach is a seasonal location, opening in the spring and closing in the fall. I now live in Guelph Ontario and so it made sense to open a 2nd location that would be year-round in my (now) home town. As it turns out, people are really digging my little creation and so I am opening a third location in 2023 in Toronto with plans to open one store a year. Maybe even one in Costa Rica!
How did you come up with the name for your company?
I believe that our most admirable character traits as women are the stories of grit and grace that brought us to where we are today. Grit helps us to be willing to leave our fears behind, grace helps us to look past whatever differences we have and see each other's hearts.
What motivates you?
Retirement! LOL But seriously, hearing stories from the G&G guests about their positive experience in one of my stores. Especially when they tell me they found something so special that they never would have thought they could wear, but now do so with amazing confidence. I really have an incredible team behind me and none of this would be possible without any them.
What was your key driving force to become an entrepreneur?
Time and freedom. After 18 years in corporate working on someone else's dream, and my time being dictated by a force outside of my control I felt so claustrophobic. I wanted more than anything to own my time. Now, I do.
Can you share with us on what has been your greatest entrepreneurial achievement so far?
Honestly, just doing "this" every day. Often, I look back on my life and I'm like, dang girl, look at you doing your own thing. This shit is hard, be proud even when it's scary, even when it's not going to plan, which it often does not.
Also, when Rio Can came to me and asked g&g to join their portfolio in their new "work, live, play" project in downtown Toronto called "The Well". When a company that size believes in you, it's a pretty big compliment!
Do you have a role model or someone that inspires you the most?
I was lucky to have been surrounded by two incredible entrepreneurial women. My step mother, and my adopted mother were both business owners. The worked hard, but they called the shots, and owned their own time. Also, my granny is 101 years old, still does squats, is sharp as a knife and smiles all day long. When I grow up, I want to be just like my granny.
Would you say there is a winning formula to becoming a successful entrepreneur?
Surround yourself with people smarter than you. Build, and empower your team. Invest in people, not ideas. Business ideas fail, but people who keep trying are more likely to improve the odds with each new venture.
Build your business on strong values and live them.. It's the foundation that will hold you up G&G was built upon a strong value system; it was the very first thing I got clear on when creating G&G. It's our north star. I believe it's what's attracted such a great team, and such great and loyal customers.
What is your favourite quote or metaphor for describing entrepreneurship?
Get the right people on the bus. Entrepreneurial knowledge, values and skills can be learned, meaning all people can become entrepreneurial. But not all people share the same worldview and values. It is important to find people to work with who share your passion.
What has been your biggest challenge this far in your journey?
Every single day is a challenge. Every single day I google "how to". I have no idea what I am doing from one day to the next. But I wouldn't trade that in for the world. Because of this, I am constantly learning, constantly growing. I have zero desire to be comfortable. My only desire is to be constantly growing, both professionally and personally. Also, the "pivot". I'm so sick of the pivot, but if there is one thing more certain than taxes in entrepreneurship, it's that you'll ALWAYS be pivoting. You just have to learn how to scuttle the ship!
Lastly, one of my favourite questions – if you were a type of shoe, what would it be and why?
HA! Barefoot on a beach is ALWAYS my preference. BUT if I had to choose… this is a hard one… Flipflops on a beach!