June 2021
Our JUNE Boss Babe of the month – Melissa, is the owner of a successful boutique in the heart of Toronto…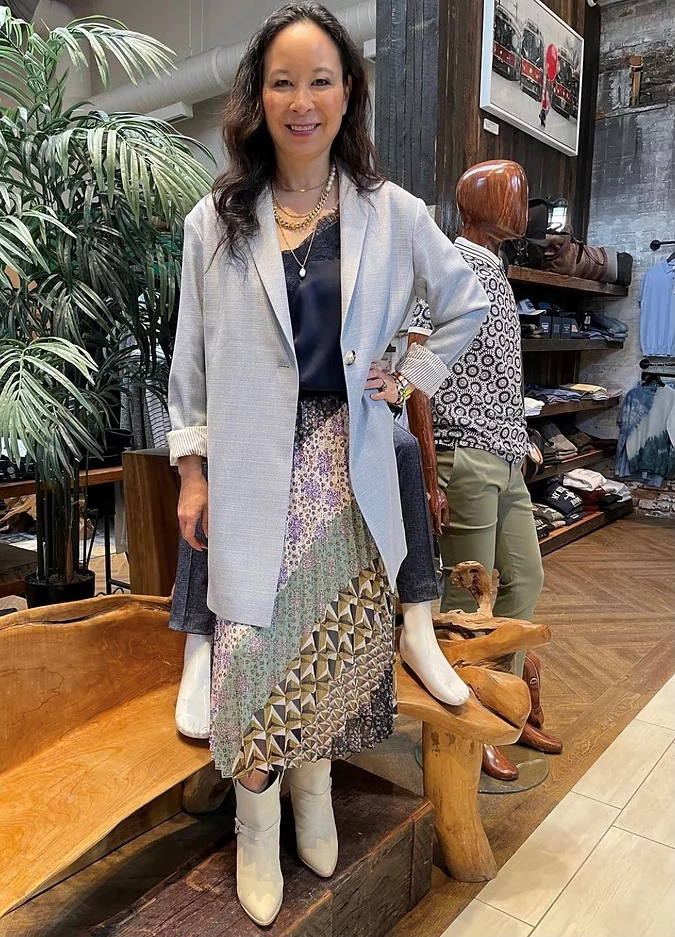 ​Melissa, you are the owner of the very well known boutique in downtown Toronto "Got Style" – can you tell us how your journey started as an entrepreneur and what was your key driving force to start a clothing store?
I always knew I was going to be in fashion; growing up my walls were adorned with Vogue magazines, not teen heart throbs. I just never thought it was going to be in menswear! My journey with menswear started at Harry Rosen, the best menswear store in Canada. From there I moved into wholesale, working for such brands as Mexx, Calvin Klein and Valentino menswear and eventually as Brand Manager for Kenneth Cole menswear, launching their 6 men's divisions in Canada. Working with the best stores across Canada, made me realize their was a void in Toronto for a new type of menswear store. I was very naïve when I started, but maybe that was better, I just had the mindset that I was just going to do it.
My original store was a lifestyle store for men; complete with flat screen TV's, lounge, full DJ system, the first in-store barber shop and men's only spa. Definitely under financed at the start (because as a female starting a business, no banks want to deal with you!) and with a bad business partner. But I think the mistakes that you make in the beginning set you up for how you deal with challenges in the future; either you figure it out and fight or you give up. I would say the past hardships make you realize that nothing phases you anymore.
Who were your mentors/inspirations that encouraged you?
For me, one of my best inspirations was Harry Rosen. But the real driving force to open a business was that I was sick of how the men in Toronto dressed! I was lucky to have worked with a Danish brand while I was in wholesale so heading to Copenhagen for sales meetings 4 times a year, introduced me to skinny dark jeans and slim 2 button suits versus guys in Toronto that were wearing oversized True Religion jeans, Ed hardy t-shirts and boxy 3 button suits. It was an awful time for menswear in North America.
It's no secret that Covid-19 affected the retail industry in a devastating way. How have you stayed motivated to push through this, and what have you done to pivot your business in adapting to these changes?
It hasn't always been easy but the only thing you can do is push and plan forward. I definitely took this as a learning time to add onto our digital stack (better e-mail marketing, re-doing our website, adding new Shopify apps, adding a CRM) and really to start experimenting with content on our social channels.
What is your greatest entrepreneurial achievement so far?
I think it was when both stores were open, we had launched a magazine, doing a ton of events and was on a path to expand. Which in hindsight I'm glad we didn't expand, if anything Covid has taught me you can grow your business without expanding your physical footprint.
Who is your greatest support when facing hardships in business?
I think that is one thing I missed doing when starting my business was surrounding myself with people that I can learn from and talk to, a lot of entrepreneurs are on an island trying to do everything themselves, plus you never want to show that you're having a tough time to the outside world so you tend to internalize everything. I would say now it's only my husband that I can vent to!
Do you believe there is a winning formula to becoming a successful entrepreneur? If so, what is yours?
While some people can get lucky, I believe a successful business is based on planning and visualization Not just in a "oh I'm going to be so successful and this is how I'm going to spend my money visualization" but from the point of the customer you are trying to serve, visualize what is their journey and what can you do to make it better. I think that is part of the winning formula – always trying to understand who your customer is and how to serve them better. I'm a big believer that a successful business is based on finding a need and fulfilling it or solving a problem.
What advice would you give to start-up entrepreneurs?
Before I would have said take an accounting course; if you are running a business you've got to know how to read and do a P&L and cash flow (and to make sure no one is stealing from you) But now I would say it's also about being strong on social media, learn the basis of all of them and choose two or three that you really want to to lean into. And using that knowledge to go back to "how am I helping my customer" on this certain platform.