May 2022
Excited to have our May boss Babe – Mel – a digital influencer, blogger, and mom!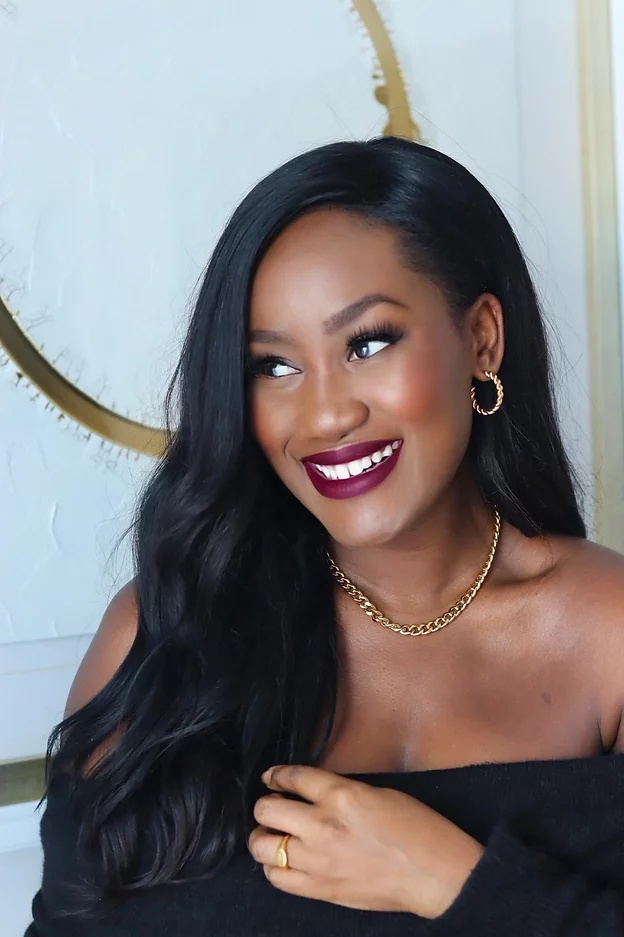 Mel, thank you for being part of our Boss Babe feature! We recently just met at the Evolve fashion show event. I'd love to learn more about what you do and how you became a digital influencer and Toronto blogger as part of your brand?
​Firstly, I just wanted to say I had a blast at the Fashion show, it was absolutely incredible and I loved meeting you. Thank you also for this incredible opportunity.
For me, it all started back in 2017 when the owner of the company I worked for as a Partnerships Manager decided to sell-up and make the workforce redundant! Suddenly I found myself with all this additional spare time and I got to planning, I wanted to do something meaningful, something inspiring that would have an impact – after much thought I started my blog, melvamicah.com, with a focus on motivating and inspiring women through my Christian faith. This was just the beginning and as time went on I took a more rounded approach and started sharing more about other things that I loved as well such as fashion, beauty and lifestyle. Content creation wasn't something I actively sought out, it just happened over time. With my growth on social media I found I had an incredible audience of women who not only loved the inspiring messages but also enjoyed my fashion/beauty finds. Over the years it's slowly become a community of women sharing and inspiring each other and I absolutely love that.
Where did you get your entrepreneurial spirit? Have you always had it?
​To be honest, growing up if I wasn't passionate about something I just didn't put much effort into it. That is why I am so grateful to have had a father who always motivated me and pushed me to not only have a good work ethic in everything (regardless of whether I liked it or not) but also to do pursue my passions and dreams that would bring value to me and, more importantly, to the other people in my life. It was this upbringing and my father's own entrepreneurial drive which has helped develop my own entrepreneurial spirit.
​What was your key driving force to becoming an entrepreneur?
​After working in Partnerships and Public Relations in London I knew I wanted to do something that would give me the freedom to live my life my way, to be there for my family whilst having the flexibility to do my own thing. So, I decided to take ownership and develop a content creation brand that inspires and encourages whilst also helping to support my family; so far it's been incredibly fruitful and the journey has been wonderful. Through this industry I've developed firm friendships and met other incredible women who inspire me along with my faith and push me to keep going and to do better.
Whats your biggest entrepreneurial achievement so far?
​Landing some incredible deals with some of my favourite brands. Brands I never thought would ever look twice at me and developing mutually beneficial relationships with them. It's literally been a dream come true, with the added bonus of becoming financially independent and helping to support my family.
​Who would you consider to be your biggest inspiration?
​My biggest inspirations industry wise are some of the pioneers. Patricia Bright, Lydia Elise Millen, Dominique Baker, scoutthecity…the list could go on. These are women I've been following for years and they've remained constantly authentic to who they are, I've even had the pleasure to meet a couple of them in the UK and here in Toronto and I can honestly say they are as beautiful inside as they are on the outside. It's incredible.
​You're also a mom and a wife – is there a winning formula for balance and juggling all of these important parts of your life?
​Coffee! Lol. Honestly I am still trying to figure it out just like everyone else, what really helps give me peace when life is chaotic and hectic is my faith. As a Christian I try and stay grounded by reading the Bible and meditating on the scripture daily. Focusing my eyes on Jesus helps me to not only stay grounded but it also helps to clear my mind, create routine and focus on what's important.
What would you say is the most challenging part about being a digital influencer?
​I absolutely love Content Creation but I think there is still a stigma attached to it, some people still assume all we do is take selfies and get paid for it but it's far more complex and a lot more work than people assume. For ages people asked me why I didn't go back into in-house PR and get a "real" job but now that they see the fruit they are becoming more understanding and appreciating that the work we do is hard, that it takes time to craft and create your brand whilst looking to provide the best quality of content for your brand partners through multiple mediums.
​What is your favourite quote?
​"Of all the blessings sisterhood can bestow, I think the greatest is to be known, really known."
– Colleen Sell
​How do you think being an entrepreneur has turned you into a better person?
It's definitely made me more confident as a person; I create work that I love, that I'm proud of, work that brings me so much joy whilst hopefully encouraging and inspiring others. I've also learned to be more accountable, I'm essentially a one woman band so if anything goes wrong the buck stops with me and throughout this journey I've learned to build more structure around my day-to-day and to be more organized.
​Lastly, since I absolutely love your style, if you had to choose one famous person that you take inspiration from from their style, who would it be and why?
​This is a hard one because there are so many stylish famous women but in this case I'd say Blake Lively. She is just effortlessly chic and fabulous; everything she wears is perfection and screams elegance, she can do no wrong in my eyes.