July 2021
Welcoming our JULY Boss Babe – Lee! A truly inspirational entrepreneur that has pivoted many times in her career to adapt to the many changes around her..
Lee, you are the owner and buyer of Denise Boutique (located in Burlington) as well as most recently opened a second boutique, Lee & me. However you've been in the industry a long time, and Denise Boutique didn't just start here. Can you share with us where your journey started and how you've gotten to this point in your career?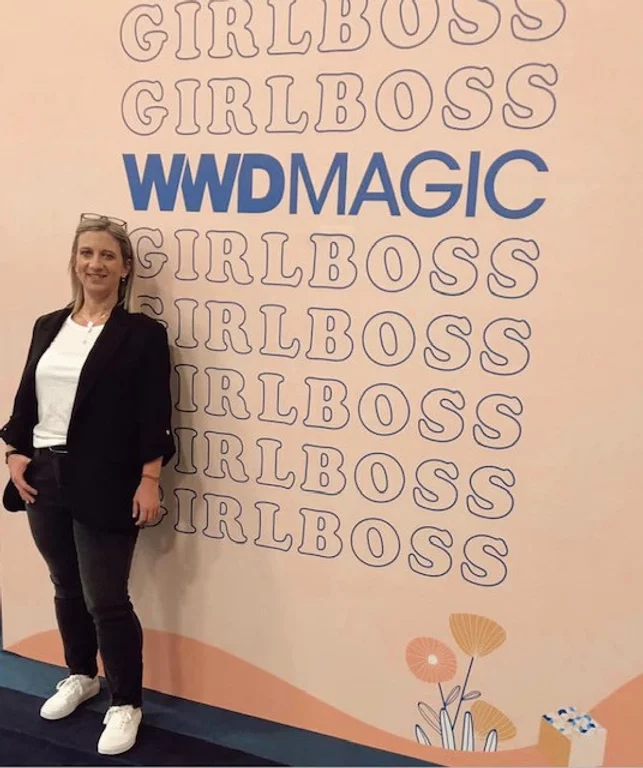 My retail career in ladies fashion started for me at a very young age. My father has always been in the retail industry and spent the first half of his career in executive positions with Fairweather and a division called B.H.Emporium in the 1970's and 80's. I remember going to his office on weekends at the famous Tip Top Tailor building on Lakeshore and spending hours on the display floor playing with the props and mannequins while he worked. I would also get to work in the store every year in the Eaton Centre on Boxing Day. My job was folding sweaters and bagging at the cash desk. I can still remember the energy and excitement of the busiest shopping day of the year in downtown Toronto like it was yesterday.
My first official job was in Yorkdale as a fitting room checker at the age of fourteen. I worked part time for a few years and continued into full time while doing a co-op program during my final years of high school. . At age seventeen I knew retail management was what I wanted to pursue so I started the management training program at Fairweather and graduated that next year. At eighteen I was provided the opportunity to manage their stores. I spent the next ten years managing store for Fairweather, Dalmy's and Winners.
During this time my father had gone on to open the first Denise store in Bloor West Village in 1990. It was then at some point in the mid 1990's that my father approached me and asked if I was willing to join him expand Denise to more locations in the GTA. The timing was perfect and I joined the team to open the third location in The Toronto Eaton Centre. Over the years we have been in many locations in the major shopping centres in the city. Just over five years ago we made the decision to open our largest location to date in Mapleview Mall in Burlington.
Have you always had an Entrepreneurial spirit?
​Yes I believe I have always had an entrepreneurial spirit. When I first started working in the industry it was for corporate companies that had very strict policies and procedures with not a lot of wiggle room for creativity. I am grateful to have developed my management style with the guidance of these rules however I really thrived once I joined Denise. We have always had the freedom to make quick decisions to react to the current situation. We are constantly changing and growing based on the current trends.
Do you have any hidden inspirational sources?
​My inspirational source is not much of a secret. My father is my inspiration. He has been in the industry his entire life and is a true entrepreneur. He is the one that I will call when I need advice or just a listening board to all my crazy ideas. He always seems to gently guide me in the right direction.
​What would you say has been your greatest entrepreneurial achievement so far?
I think my biggest achievement has been opening up our latest new concept boutique Lee&Me. Opening a retail location is challenging at the best of times but throw in opening in the middle of a pandemic and that has been interesting. We opened our boutique and our online platform in October 2020. To date we have been closed more then open so its been challenging. When we opened in October we had just opened our social media accounts so we did not have a following or loyal clientele to support us while we were forced to be shut for months. Our doors are now open and I am super proud of what we have been able to achieve.
Do you believe there is a winning formula to becoming a successful business owner? If so, what is yours?
My winning formula has always been to find the right staff and treat them well. We have been very fortunate to have most of our staff that have worked with us for over twenty years. We have a great bond and each of these amazing women have been able to utilize their individual strengths. They all treat the business like its their own and its really a blessing to have them part of our team.
​How did you pivot your business to adjust to the sudden changes that happened from the Covid-19 pandemic?
Denise was very fortunate to already have an online platform as well as a very loyal following on social media. Our success is attributed to the ongoing relationships we have developed over the years with our clients. When we were shut down we quickly adapted to our social accounts to stay engaged. The toughest part was going down to only two of us working during the lockdowns. During the first lockdown, I had this idea of going 'live' and called it coffee time with Heather & Lee. We jumped on, not really knowing what we were doing but just started talking about whatever came to mind. We would show our latest arrivals and started trying on items for the clients. We were very lucky that this appears to have been exactly what our clients wanted. We listened and engaged with them and our little coffee times have become a very important part of our weekly routine. We also started weekly auctions that were very popular and helped us clear goods in the winter months which allowed us to continue bringing in new items. I am never afraid to try a new trend because you never know what will work…We have even played with Reels which is WAY out of our comfort zone….
What advice would you give to aspiring entrepreneurs?
​My advice would be to really know your client. Over the past 20+ years I have always worked most of my shifts on the floor. Although I have many roles and different responsibilities the majority of my shifts are on the floor selling. I never really understood the concept of buying clothes and not really understanding your clients and what works and doesn't work for them. Sometimes I have to pass of certain trends because I know my clients will not be interested in that product. I would recommend not just buying what you like but always keeping your clients in mind. The second bit of advice would be to consider if you are opening an online platform or brick and mortar. If you are opening a physical store then location has to be the most important thing to consider. Its amazing but locations even as close at twenty minutes apart can be worlds of difference to the clientele it draws in. You must know who you are wanting to attract and position your self in the best possible location. My last bit advice is hire the right staff who see your vision and will help you achieve success.
​If you were to write a book about yourself, how would you name it?
​Adaptability (one retail day at a time).