September 2020
WELCOMING KRYSTAL DARLING AS OUR SEPTEMBER BOSS BABE OF THE MONTH!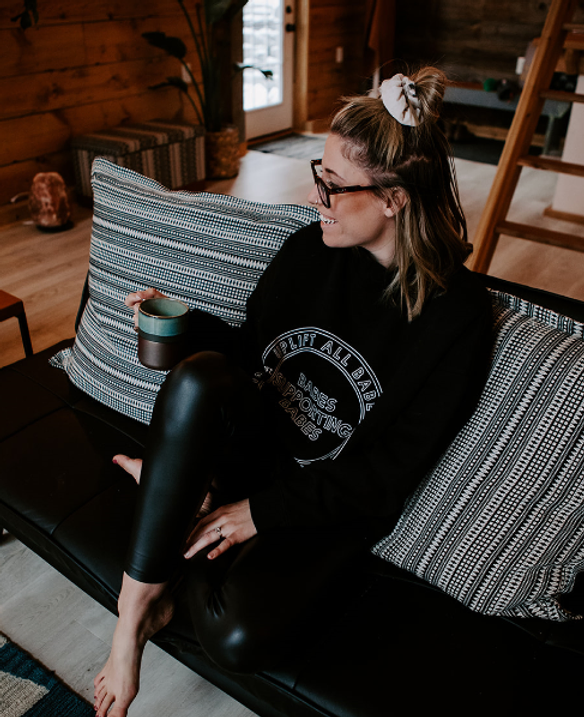 Tell me about Belle's Boutique and how you got started with being a business owner?
Belle's Boutique was conceptualized on a road trip home from Nashville TN with my husband (then boyfriend). I think being an entrepreneur definitely runs deep in who I am (my parents have owned their own businesses for over 30 years) and I was trying to figure out what I wanted to do after University and where I wanted to end up. I had always been coming back to wanting to live in Muskoka and it was Chris who decided I needed to go for it. We created the entire concept for Belle's on that road trip and when I got home I created a formal business plan and the rest is history. Almost 7 years later I can definitely say it was the best decision I have ever made, I truly love owning a boutique, connecting with my clientele and embracing all things fashion on a daily basis!
How would you describe the brand style of Belles Boutique?
Belle's from the beginning has always been about curating unique, stylish pieces and filling a niche void that our small town market had. I always felt there was nowhere that spoke to my personal style and there was a void in the market for a boutique that targeted 20 something to 40 something women who love, plan and simple, pretty things. Building this business and my brand has also been rooted in kindness and style and I feel so so lucky to have made so many unbelievable connections within the industry and within our town.
You are what I would call a SUPER BOSS BABE – you juggle being a wife, a mom (with 2 of the cutest kids I've ever seen), a store owner aside from all the other projects you have going on! Can you tell me a bit more about how you're doing it all?!?
My goodness you are making me blush over here! I definitely can say that it is not easy juggling it all but I am working hard to find a balance that works for us. I have so much support from my amazing family so I am beyond lucky in that regard. Our lives are chaotic but in the best way. I think something I have finally come to realize is that taking time to focus directly on business and then directly on the boys and my husband are key to being successful on both a professional and a personal level. A lot of caffeine and wine are also involved so probably should give them a shout out too (LOL).
What are some of the new projects you have in the works? Tell me about this blog you are doing as well as some of the events you organize for the boutique?
So I actually also own a bridal boutique which has been open for 5 years now. That has been a different challenge during this past year because the bridal world has obviously taken a huge hit during the pandemic but we are working through that and moving forward with some great new designers, trunk shows, and other fun things! A personal project I am really excited about is the launch of my blog this September. For the past few years I have been trying to get this going and I just have not made time so I guess during the busiest time of my life I felt it was the right time to do it haha. Darling Lifestyle has been created to be a diary of fashion + lifestyle + motherhood. I love connecting with people on a personal level and often find people asking about how family and how we make everything work so I think sharing that in a real way is going to be something really fun for me! We also, prior to covid, had planned a huge event at the boutique, The Muskoka Babe Style Clinic, and we are in the process of rescheduling this in a socially distanced and safe way. We will have bloggers, style tips, private shopping, treats, giveaways and a whole bunch of other amazingness going on for this event so to say I am excited about it would be an understatement!
What interesting things have you discovered along the way?
I have always been someone who likes to lead, who likes to take charge and be in charge for that matter. I think what I have finally discovered, or rather accepted, is that I am good at it. I love what I do, I love being my own boss, and I love building this brand to hopefully one day make my family proud. I have so much to learn and I am sure many more mistakes to make but owning my own business has really sculpted who I am as a woman and mother and I am very grateful for that.
What would be your words of advice for aspiring women in business?
Trust your gut. Your intuition is right. If you feel something is right, if you feel something is wrong, if you feel anything at all in your gut regarding your business (or your personal life for that matter) listen because you are likely right. Trust yourself!