August 2020
Say Hello to Kristina Hudson Owner and Founder of Krush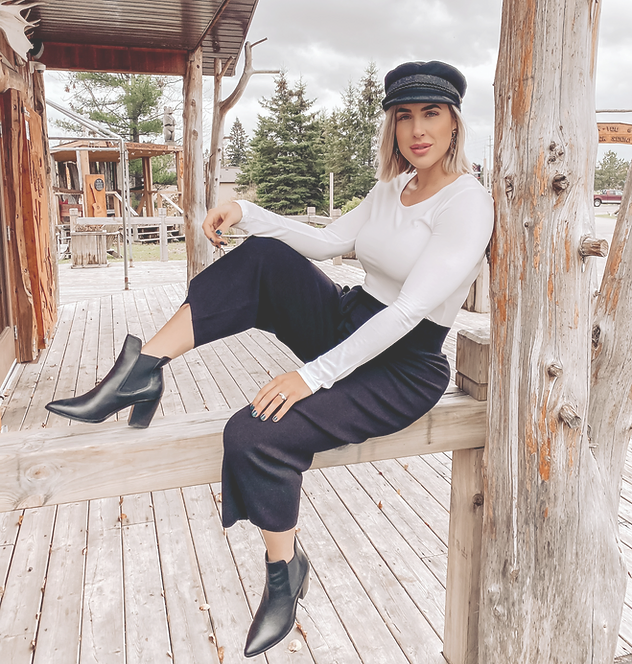 Kristina is legit – the embodiment of what it means to be a Boss Babe. From managing her parent's ice cream store at the age of 16 to organizing a Women's' empowerment event she is taking the fashion world by storm with no indication of slowing down!
I was lucky enough to connect with Kristina to gain insight on Krush and her journey as a woman in the business world…
When and how did KRUSH get started?
Alright, so to preface this I want to start by saying I believe I was raised with entrepreneurship running through my veins. My parents have been in business since their early twenties and it's safe to say I've learned a ton from them growing up. So naturally, at 18 years old I opened Krush Clothing Boutique. Crazy right?! I know. Prior to this, I had gained years of experience through managing our family ice cream parlour for 2 Summers, and simply working in the family business since I was 14. At 16 years old I was completely running our family ice cream parlour – hiring, training and terminating employees, and working 12-14 hour days. Now don't get me wrong, my parents aren't slave drivers who forced me to do this, I truly loved it and just wanted to be at work!
At 17 years old I started writing up a business plan for Krush. I knew I wanted to open a clothing store that offered more than just clothes. I wanted to open a boutique that offered the best shopping experience anyone would have. Growing up I was always the "bigger" girl. I wasn't blessed with a naturally thin body and I really struggled with my weight until I was about 17 years old and realized health problems were part of my weight gain. Nevertheless, I grew up experiencing horrible customer service when it came to shopping.
When I did start to lose weight and get my health under control I immediately found myself having much more pleasurable shopping experiences. Although this made shopping a much happier experience. It also made me realize no one should have the experiences I had when I was bigger. So, I decided to work on a business plan for a clothing store that would seek to make every woman FEEL beautiful. Regardless of size, age, or style, every woman would feel good about themselves when they stepped into Krush. That was my mission in 2013 when I opened and it's still my mission today.
After writing up my business plan I had applied for a grant from the Northern Ontario Heritage Fund, which I was granted and received $25,000 to help with start-up costs. I had saved my money over the years of working and used my savings towards inventory for the initial opening and hoped and prayed that this would take off. The thing with being in the village at that time was people weren't coming up to The Frontier Village to shop the kind of things they'd stroll through the mall for. So, I had to get creative and do some major advertising to bring people up to Krush. I also ensured that every single person had an incredible experience so they would tell their friends – word of mouth is always the best kind of advertising. I used local radio advertising, started building our Instagram (which at the time was still very new) and slowly started building an amazing clientele which would lead to our expansions over the years.
I read that you have expanded 3 times in 3 years, can you tell me more about this?
It was actually 3 times in 4 years – but still crazy! It sure made for a crazy few years. We opened in May during our first year of business, and by May of the following year, we were in a bigger spot. After the first 6 months, I realized my little 700 square foot boutique just wasn't going to cut it. The new spot was around 1300 square feet and lasted us about a year and a bit before I realized it would be time to expand once again. We now have a 2500 square foot store and it's been incredible! In this space, we've not only grown in-store and became the go-to store in Sault Ste. Marie (and Northern Ontario) but we've also built our online platform and are shipping worldwide. Who knows, we may need to expand yet again in a couple of years!
How would you describe the brand style of KRUSH?
KRUSH is a brand that showcases effortless, chic, and everyday styles. We wanted to create a space and a brand that carried wearable items that will still have you looking fashionable daily. At Krush, you'll certainly find some unique pieces that you wouldn't see anywhere else, but we definitely focus on wearable pieces that'll take you from day-to-night. We understand the importance of purchasing items that'll last years and years, and also items that'll be worn more than once. We carry amazing event pieces as well, but we focus on day-to-day fashionable capsule pieces.
What interesting things have you discovered along the way?
Over the years I've realized the importance of listening and learning from customers. I have always stuck to my guns when going to trade shows and showrooms during buying season in terms of trends and styles to bring into Krush. I remember having all of the agents and associates tell me what their hottest items and bestselling items were that season, trying to get me to buy them for Krush. But, those items were absolutely not styles that would sell here in Sault Ste. Marie. See, the Soo is a remote town of 75,000 and we may be a bit behind in the trends, but we also don't invest heavily in trends that will come and go. Our Saulties would rather invest in classic timeless pieces with the odd trendy piece in their closet. This is what my customers would always ask for.
So, when I would go to these trade shows and find myself constantly saying "no, that just isn't what my customers want" or "no, that's not for us" I started to question if I was even doing my job correctly. Everything I was picking out was selling out and women loved it, but I couldn't shake the feeling of "should I be doing what all of these people are telling me works". I started to question if I even knew what I was doing even though what I was doing was working. So, I ended up buying a ton of the "trendy" pieces one season. I thought to myself these people have been in the fashion industry much longer than me so I should just try it. Guess what? None of it sold. None. I had to sell everything off at below my cost and let me tell you I've never made that mistake again! So the point of the story – listen to your customers and their needs and wants! And also, remember just because some people may have been in this industry for a long time, the fashion industry is different everywhere you go! Fashion is so personal and an expression of creativity and that looks different for everyone which is why it's so important to listen to your customer.
Can you tell me about this new project of yours, Fuel your FIre. Do you have plans to reschedule the event?
Fuel Your Fire! Oh an event I am so excited about! Fuel Your Fire is an event I created that aims to empower women. It is a day filled with incredible speakers that'll leave you feeling motivated, uplifted and inspired.
Fuel Your Fire will be a day of celebration and empowerment full of conversation and workshops from inspiring local female leaders and keynote speakers including Sarah Nicole Landry (aka The Birds Papaya). Inspiring women sharing their inspiring stories, valuable advice and strategies to become the best version of yourself. Our goal is to have you leave this conference feeling inspired, ready to achieve your dreams, and learn how to be the best version of yourself, whether it be being a better Mom, wife, boss, employee, or human. Other speakers will include Anna Lozano & Lindy Sood from Love Powered Co., Roxanne West, myself and so many more.
Beyond the incredible learning you'll experience from listening to these speakers all day, you will also have the opportunity to attend one of the most beautiful events in Sault Ste. Marie, ever. Fuel Your Fire will have some incredible additions to the day listed below.
Fuel Your Fire will also have a COMPLIMENTARY BEAUTY BAR hosted by Azure Salon Spa & Medi Spa featuring:
Morning & Afternoon Perk Up's (during breakfast and registration, and lunch hour).
Enjoy having your hair touched up (curls, braids, etc.)
Enjoy makeup touch up's (let the Azure artists makeover your eyes, or highlight, or blush, whatever you wish)
Hand Massages
Lip exfoliating Hydrafacial
Lip Colour Application
Fuel Your Fire will also have live performances from the talented Gabrielle Dumas. Gabrielle is a young artist with one of the most incredible voices you'll ever hear.
Now, of course with COVID-19 we, unfortunately, had to postpone this event until further notice. We are currently looking at June of 2021, keep an eye out for updates on Insta @fuelyourfireconference
Lastly, what is your number 1 piece of advice for aspiring women in business?
Never Listen To The Sheep. Sheep will always follow the herd. There will always be people who want to try and tell you how to do what you do, or what they think you should be doing, or if you should or shouldn't dive into business. Although I am all for taking advice from those who are worth learning from, don't allow people's opinions on what you're doing deter you from achieving your dreams. Create your own path away from the herd, and follow your dreams! Take the risk! Don't wait for the "right time" because it'll never come. If you're passionate about something and want to get into business just do it!