March 2021
Here's to our March Boss Babe, Kris!
You're the founding partner of "Girls Just Wanna Box" – can you tell us more about what the brand is and how you came up with the idea?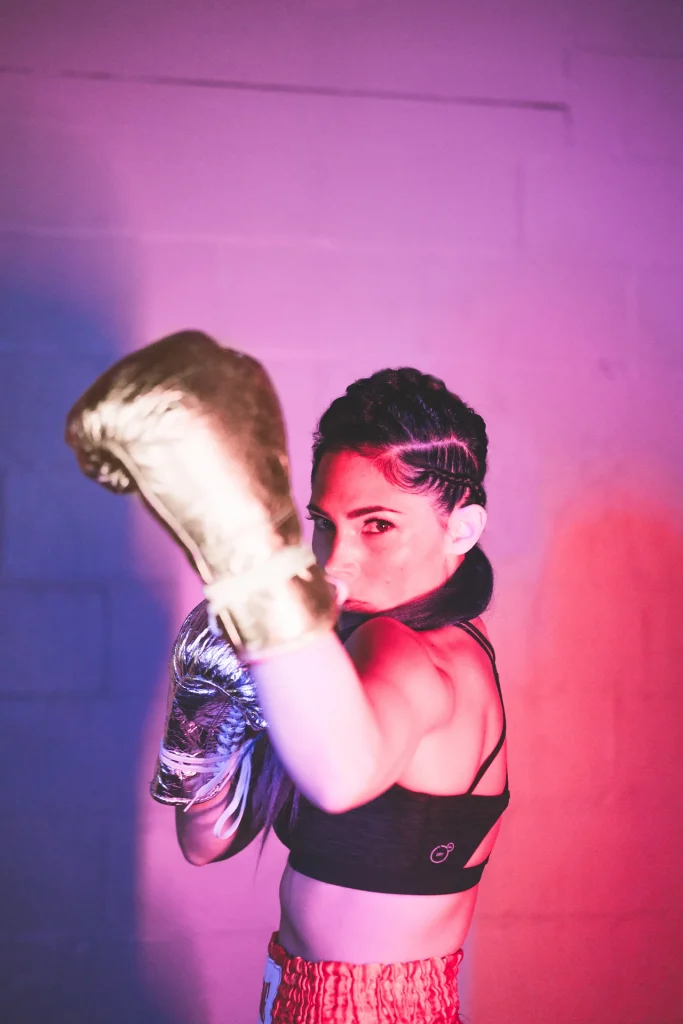 ​The idea came to me after my first (and only) fight in 2007, after training for ten years and having to put on an event to fight in I felt worthy (as an event producer) of fighting in. That was my second corporate boxing event (I executed 14 by 2018) that I had ever put on, and after all the craziness that it was to train for an amateur fight, with the weight cut, and organizing the same event (don't do that) it was 100% worth it. I took some time off and realized after the long road it took to get there.
I was at a Starbucks planning what's next (with two black eyes) feeling pretty bad ass with mix-emotions. I realized everyone who can fight as least once, should. The thought also popped into my head -why was it so hard to get a fight – GIRLS JUST WANNA BOX!???? It was then I started transcribing the beginnings of what is now our 5-level program, and fast forward today (with an awesome new business partner – Helene Jafine) and years of seeing the gaps in the sport and recreational boxing for women. GJWB is a women's boxing lifestyle brand with an in-studio and virtual boxing club, growing apparel line and fully redesigned boxing gloves and coaching gear to fit women properly.
All the GJWB gear is created and tested for women by female fighters and coaches. It really makes our products unique. We are also extremely proud to be a size inclusive, non-leather line that believes fashion and function should not be mutually exclusive.
How did you get started in the boxing industry?
​It was after my fight and reflecting on the extreme lengths I had gone too to get coaches to train me to fight, then to finally get a fight and how unorganized it was. I realized with my experience in events, business and marketing if I could learn everything about the sport and understand it better (no one at the time or now really is running boxing business courses), I could figure out a way to make boxing a more positive easier experience for anyone else who wanted to box. Hence my over a decade of running corporate boxing events here in Toronto ensuring 50/50 male/female fight cards for the latter part of the decade.
**Kristina has had many roles in boxing over the past twenty years; boxer, coach, fighter manager, gym manager, corporate boxing event producer and promoter for the past ten years. Currently Kristina is a Level 2 certified boxing coach and chair of the Female Development Committee for Boxing Ontario**
What motivates you?
​The joy and excitement of women or girls when they fall in love with boxing through our classes or workshops. Whether they box for real or for fun and tell us how much they love our products. Also, how happy they are that they are able to box and feel so supported by our gear and their aspirations feel supported by our community.
What are some obstacles you've had to face as a female in a predominantly male sport?
​I realized that I would never be where I am now if I was waiting on men in this sport to give me permission or opportunity to do anything. I had to create and invent most of the opportunities myself and create a world where male and female fighters are given equal opportunity as much as possible. Now I am focused on all female (and those identifying as female) everything. It's the only way to progress women in the sport. Lots of work to do and I'm here for it.
​What's been your most satisfying moment in business?
​Can't say it's happened yet, I'm a true entrepreneur that way. Although I am extremely inspired by our Lil Star's and Teen boxing program. The empowerment we are giving these girls to be strong, fit and fierce is everything to me.
Who has inspired you the most, personally and professionally?
​My clients, members, and fellow boxers and coaches inspire me both personally and professionally always.
​If you were responsible for casting the lead role of your own movie, who would you want to play you?
​Olivia Munn?
If you were to pass down some words of wisdom to the next generation of female entrepreneurs, what would that be?
​My favourite quote is: "The greatest fear of all… is the fear of NOT having the opportunity to fail." Coach KJEM
​Being an entrepreneur is not as fun or cool as it looks but if you can find something you are truly passionate about that will help you through the tough times of which there will be many.
More helpful words of wisdom are; ask all the questions, never be afraid to ask for help or find smarter people then you for the help. Collaboration over competition and give someone who needs an opportunity just that, pay it forward.