October 2020
Excited to welcome Katrina Turnbull as our October Boss Babe of the month!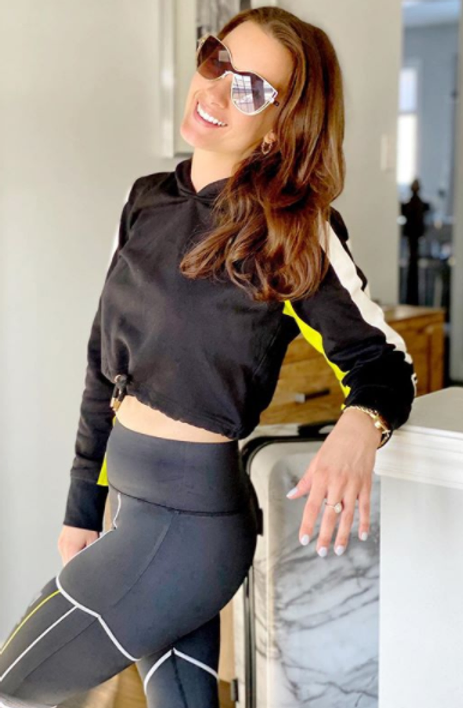 To kick things off, we'd love to learn about what you do professionally and how you got started in your industry?
After giving birth to my first son, the idea of going back to work at an office for someone else didn't appeal to me. I decided to transfer the writing skills I had gained from being a translator and editor and switch my career to blogging. After blogging for a few months, I was contacted by a tv network to present my blog post ideas as liveon-air segments. Once I did a few of those, I caught the attention of another tv producer looking for someone to host their own local show in Ottawa. I can honestly say I never thought I would end up working in television, but five years later, I'm getting ready to host my fifth tv series with Bell Media. My shows are watched by millions of Canadians from coast to coast. Though unexpected, this is ultimately the career I was meant to be in.
You have a steady and growing following on Instagram as a Canadian influencer. Do you have any tips on how you've grown your platform so organically?
The biggest secret I can give people to grow their social media following is to be authentic. People will connect with you when you open up about your struggles or embarrassing moments. They want someone they can relate to and will naturally like and share content that has resonated with them in some way. The algorithms will then in turn start showing your content to more and more people over time. I try to post every day and find evenings after 8 p.m., when people are settling down, get me the most engagement.
You seem to be a real open book (we love those kinds of people), and your openness to sharing about your recent divorce, juggling being a single mom and a very invested career-woman. What advice do you have for other women that may be going through a similar transition?
I want women to know that they shouldn't stay in an unhealthy marriage just because they are afraid of the unknown; how will their kids react to splitting up the family? How will the mom support herself on one income? How will they divide their assets? Will I be alone for the rest of my life? I was terrified of the "unknown" of divorce. It was very scary to take a leap from the comfort of my unhappy marriage into unchartered territory. But it taught me how to be resilient and figure everything out for myself. I didn't realize how strong and capable I was when I had to go it alone. I'm also happier in my new single life then I ever thought possible.
Covid-19 has been the topic of 2020, and has affected everyone in so many different ways. You've been so positive on your platform through it all which is so inspiring to see. What would you say has been your mindset throughout this crisis and how have you navigated through it to make it work for yourself?
When the covid home isolation started, I asked myself this: What was I going to do when everything crumbled down around me? Would I crawl into my bed and worry or would I push past the fear and continue to nurture myself and my family every day? I think having gone through such a difficult divorce just prior to covid gave me the strength to deal with the pandemic. I dug deep and applied myself because I learned from divorce I was stronger than I realized.
We love your style! What would you say is your go-to vibe when it comes to fashion?
When I'm at home with my kids, I love wearing sexy cropped sweatshirts and leggings from cool brands like Elly Pistol. I have my kids for a week at time and don't go out when they are with me. When it's mom's night out, I'm obsessed with leather leggings, crop tops and cool jackets. After two kids I have a small waist and a booty that won't quit! I love how my body looks and take every chance to show off my sexy curves.
Can you share with us some of your upcoming new projects that you've been working on?
This fall I'm filming a new tv series called Modern Girl's Guide to Divorce. It's a funny but informative six-episode series that helps people going through divorce find everything they need to know from saving money on divorce lawyers, selling your marital home, to navigating the dating world with kids, and more! My divorce was brutal. It took four years of my life and almost broke me financially and emotionally. I truly believe I was meant to go through what I did in order to have this opportunity to entertain others struggling through divorce help them have an easier time navigating the divorce process. Modern Girl's Guide to Divorce will air on Bell Fibe TV1 in February 2021.
What interesting things have you learned along the way?
Through my journey to becoming a tv host, producer and divorced single mom, I've learned to believe in myself and follow my dreams when no one else did. I have faced many difficult situations and handled them with strength and integrity. I feel more fearless and empowered that I ever thought possible as a young single mother.
What would be some words of advice for aspiring women in business?
Do it. I had very few family and friends believe in me when I said I wanted to leave my stable office job to be a "blogger." I did it and it led me to a successful career in television. Even with my tv show ideas, people said they would never work. They were wrong. My tv shows have all been successful and refreshing. I think sometimes people are scared of new or innovative ideas. I also think some people will try to dissuade you from going after big dreams because they are too afraid to do it themselves. Believe in yourself when no one else will. Write down your goals and cross them off one by one to stay motivated.
Check out Katrina's website: www.katrinaturnbull.com