June 2023
Meet Kyla – a truly "kind" person, and the face behind "A Kind Heart"…
Kyla, you are the owner of North America's first brick and mortar charitable concept store "A Kind Heart"; where every brand you represent in your store is one that gives back to charities and causes globally. WOW! What an incredible idea. Can you share with us how the concept was created and why you decided to do this?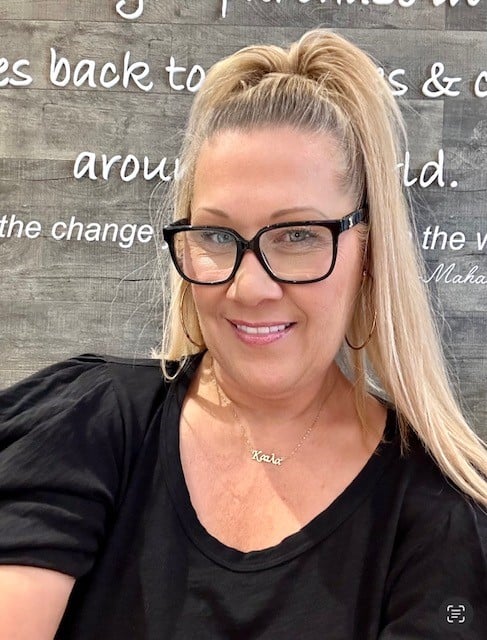 I've been in retail for 30+ years. Believe me, I've seen it all: the good, the bad and the uber-ugly. Thing is, I've always had the ability to quickly size up a situation, learn from it, then turn around and make the necessary adjustments.
More than that: I always knew I could do things better. I saw this huge gaping hole in the industry, and I knew how to fill it. I could see it, feel it even…A brand and space where people feel welcome and respected, and where the spirit of giving back heavily infuses everything we do.
Tell us more about yourself. What kind of a person are you?
I'm a person who likes to get sh**t done. Always been that way. I don't enjoy lying around and doing nothing, especially when I know I could be doing something amazing. I'm open-minded, incredibly vision-oriented and willing to try anything. And I'm not afraid of so-called failure, it simply doesn't exist in my
world. Everything is part of one giant, amazing puzzle or experiment to create the best "whatever" [I'm working on].
Where did you get your entrepreneurial spirit?
From the womb, baby!! No, seriously… I honestly can't pinpoint one particular source. I've just always had this thing inside me, a gnawing relentless drive to try things, you know? Like my fabulous lemonade stand when I was 7. I just don't know any differently. Plus, after being in the game for so long, I just can't
fathom doing it any other way.
What has been the most significant barrier or challenge in your entrepreneurial career?
Hands down, my biggest challenge is wrestling with the traditional notion that "business isn't personal". I was always told, trained even, that it's wrong to show emotion if I want to be taken seriously and perform in a "professional" manner.
This made absolutely no sense to me! How can I NOT be emotional?? This is my baby we're talking about. All my blood, sweat and tears have gone toward nurturing it. Besides, when did being non-human (showing no emotion) become an asset? I will rally against that nonsense till my dying day:) And more to the
point: I'm proof that being a kind human in business is not only extremely satisfying, but it can be highly profitable.
Do you believe there is a winning formula for becoming a successful entrepreneur? What is yours?
Surround yourself with great people! Create the best team ever with people that are aligned with your company's mission, values and overall spirit. I always try to empower my staff so they can make decisions and actually see their value and impact. This way they become more invested in their role and the company.
I've learned over the years that I can't do it all by myself. I mean, believe me I've tried! This was a solo show for a long time in the beginning, but I quickly realized it's not sustainable.
Basically, this is a "find your tribe and love them hard" scenario because when you take care of your team, they'll travel to the moon and back for you. You can't train people for that kind of commitment. So when you get it, never take it for granted.
Is there someone that has been your biggest inspiration in your career?
There's really not one single person that encompasses everything that I admire. I'm drawn to strength, resilience, and of course, kindness. It's the people who've been knocked down so many times–like, you're sure they're done–but they keep getting up, all dusty, bruised and bloody. Those are the people that move
my soul. You don't mess with those people. They're my people.
What advice would you give the next generation of female leaders?
Follow your heart and stay true to you! You need an almost obsessive drive to anchor yourself so you're not flailing in the wind when things get rough. Root yourself in your vision and values and you'll be able to trust yourself to make sound decisions.
And remember to breathe! You're gonna have hard days. Expect them. Plan for them! So when they happen you have a strategy in place to help keep you moving forward. You've got to keep pushing. Never give up.
Do you feel that you've had to make sacrifices to be successful?
Absolutely. Time spent with family. Time for myself. That's all been lost. But what I've gained, I hope, makes up for that. Which is: I've cultivated a life for myself where I can call the shots and have greater control over my time and what I do with it.
I mean, in the beginning you have to expect it to be hard, right? It's a lot of work. You gotta get down on your knees and start digging. If you can fall in love with the process of getting down and dirty–and all the other things you have to do to build the strong foundation that's gonna support you for years to come–
you'll be unstoppable.
How should women support other women specifically in the retail world?
Be less judgmental. Try to have more of an open heart and mind to ideas and people that have the power to change not only your business, but the industry as a whole. Imagine what we could do if we truly all worked together, with everybody's best interests in mind?? My God, we could revolutionize the industry, maybe even the world:)
Lastly, what is your favourite cause that you are passionate about?
Anything with kindness and humanity at its core. All living things basically. Ultimately, this question always takes me back to why I started A Kind Heart: to create a retail space unlike anything people had seen or experienced before. Everything here is intentional. It's a place where kindness for people and the
planet is the focus and the reason why people are attracted to our store, why they buy and why they keep coming back.