July 2023
Meet "The Retail Duo" – the visionaries behind the innovative concierge service designed for the retail world…
Diane and Karen – better known as "The Retail Duo"; can you share with our readers what you do and how you got started in this industry?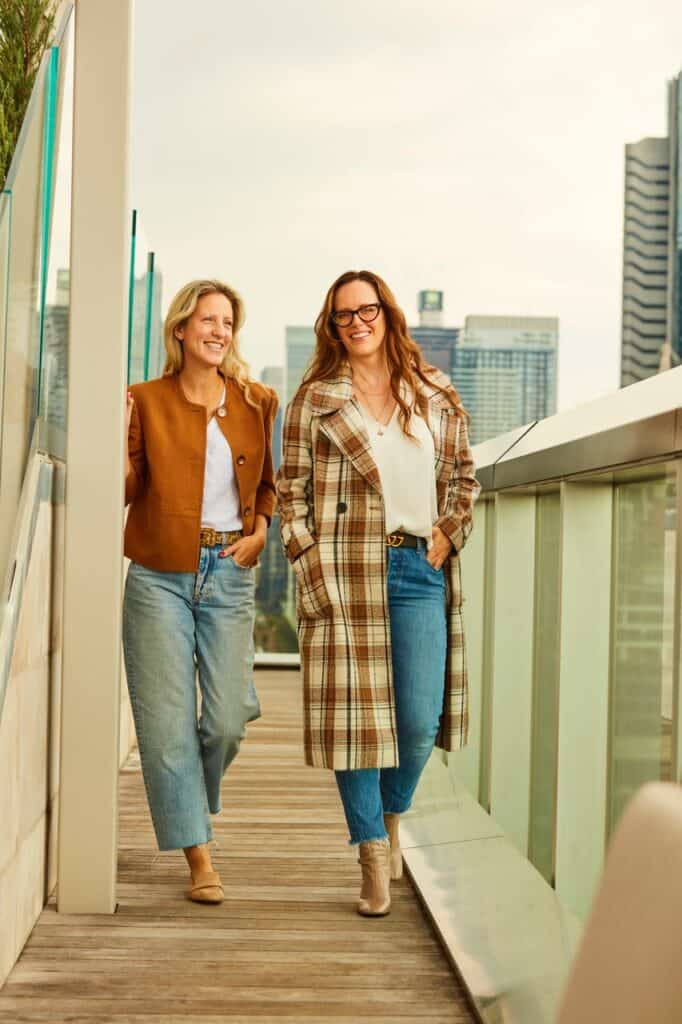 The Retail Duo is a concierge style business that offers a variety of services. We have four pillars which include visual merchandising and display, interior styling, marketing and art direction and finally training and conference speaking. Although we specialize in retail, we are not limited to exploring other genres and other projects.
In our early years…
Diane received her diploma in Visual Merchandising Arts at Sheridan College and went on to work with some big brands in the retail industry. Her focus was more marketing, graphics, and fashion styling.
Karen obtained a diploma in Fashion Arts, a business course at Fanshawe College that captured merchandising, buying, fashion and marketing. She then worked in both apparel and home fashions and concentrated on store planning, merchandising and displays for both small and large brands.
We became professors at Sheridan College in the Visual Merchandising Arts program the same year. We didn't exactly hit it off at first. It took a co-worker to show us that we were two peas in a pod – married with two kids the same age, small town girls with sky high ambitions. Now we're inseparable!
What are each of your roles within this partnership?
We are the dynamic crew of two. We may have different areas of expertise, but we are like peanut butter and jelly, the perfect combo! With our "divide and conquer" approach, we get things done in no time flat. Offering two perspectives (and sometimes more) sets us apart – It's like getting two superpowers in one package. Diane rocks the role of Director of Branding and Communications. Karen is the queen and Director of Project Management and Merchandising.
What would you say was the key driving force for you to become entrepreneurs?
We both have regular, traditional 9-5 jobs that have taken a lot of hard work and determination to get to a place where we feel confident in our abilities, and they are extremely rewarding careers, but deep down, we craved more! We wanted to unleash our creative sides, get hands-on, and be a part of the industry we adore. For us being relevant and being part of the industry is essential and we hope this inspires and engages our students. It's like entrepreneurship runs through our veins – the constant urge to do more, make a splash, and create magic.
Partnerships can be tough! What makes your partnership work well?
It's all about those simple best practices. We divide and conquer (hello efficiency!), communicate like champs, and even call each other out with a little hint of sass. We make sure to keep each other hydrated and nourished – a little wine or Prosecco never hurt anyone, right?
Most importantly we value and respect each other's idea, share financial decisions, and set goals together. WE definitely know how to have a blast while traveling – work hard, play harder!
Do you believe there is a winning formula to being successful and if so, what do you think it is?
PASSION + ENTHUSIASM + COMMUNITY = PURE BLISS There is so much to consider when you run a business and it can be overwhelming. In the end if you can be aware of trends and economic factors, but keep in mind your own business objectives and goals along with your brand identity that will keep you focused. Passion, enthusiasm and being a good human will also seal the deal every time. We are also big believers in helping others succeed. The joy that you give to others is the joy that comes back to you. 
What have you learned from each other in this journey together?
K: Diane has taught me many things. She has built my confidence and she encouraged me to bring back my love of illustration, which we incorporate in our pitches and branding. She has also been a big champion in encouraging me to speak up more and as I get older, I wish that was something that I had learned and practiced much earlier in my career. There is no denying she has helped me level up my personal style and I now know what a good font choice is! She is super talented and together we really complement each other well.
D: Karen's wisdom has rubbed off on me – patience is a virtue, people! Taking time to breathe, plan, and think things through has been a game changer. Karen never seems to break a sweat in a stressful situation and always greets a challenge with a smile (even if it's a fake one). Her name gets a very bad rep – Karen is so NOT a Karen.
Karen makes friends and industry connections so effortlessly. People always think I'm super outgoing in social situations – BUT before I met Karen, I was strangely scared to meet new people. She connects with people by deeply listening and reaching out to them on a regular basis. Now I have more confidence in approaching people – what's the worst that can happen right Karen?
Have there been any tough moments you have experienced so far?
Let's get real, tough moments happen. When massive projects, work responsibilities, and family life go into a frenzy, it's tempting to throw in the towel. But hey, we know better than that. Learning to say NO and finding some resemblance of balance is crucial. And lets' do not forget the importance of wine therapy when things get intense.
You both clearly have an eye for detail and are incredibly talented at what you do. How do you stay motivated in keeping things exciting and different?
We're always aware of our surroundings, keeping tabs on trends and soaking up inspiration. Travel and industry events fuel our creative fire – and of course being inspired by incredible people. Being the duo means that we motivate and elevate each other to new heights.
Any advice for aspiring young women starting out in the retail world?
If you are stepping into the retail world: buckle up for an exhilarating ride. Surround yourself with a supportive network of like-minded folks who truly get the biz. Don't settle for less, know your worth, time is money, and take risks, embrace fear, and try new things. Celebrate your victories big and small, and never forget that you're capable of greatness.
Lastly, if you were to write a book about yourselves – how would you name it?
"DUO POWER – Unleashing Success in Retail." Who could resist that dynamic duo magic?