July 2022
Our July Boss Babe is the visionary behind LIVIE jewelry. We had the opportunity to share her story about entrepreneurship and all its challenges and milestones… ​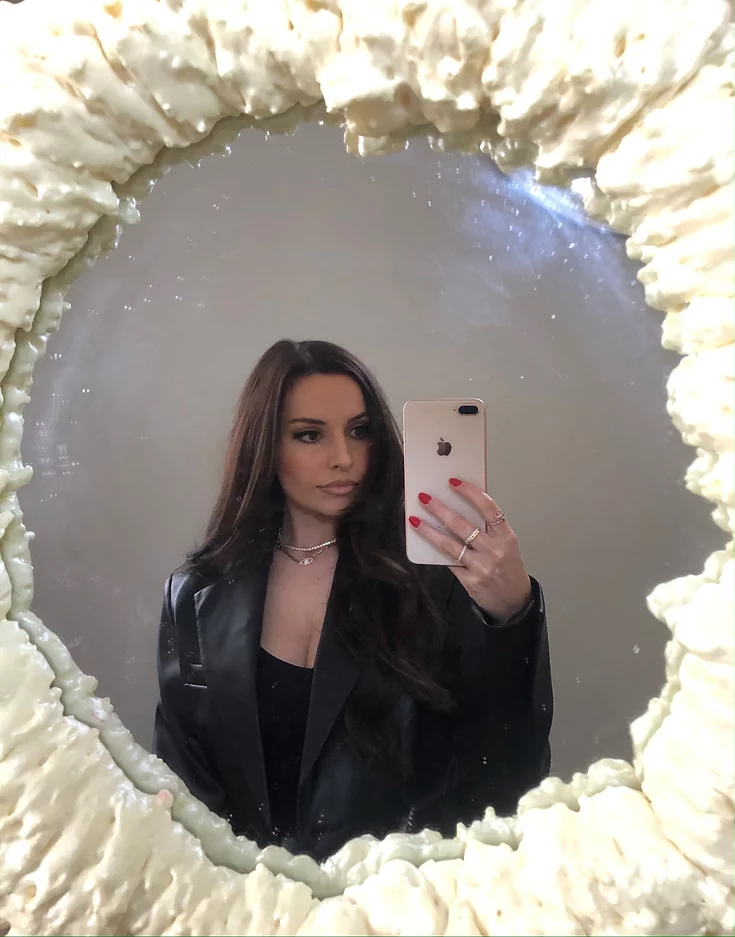 ​Jules, you are a successful entrepreneur, and the face behind the beautiful "LIVIE" jewelry brand. Can you share with us where the idea of LIVIE derived from?
​Thank you for your kind words! Before Livie came to fruition, I struggled to find unique, minimalistic and that perfect balance of "edgy meets feminine" pieces in a price range that was affordable. I often found myself compromising on quality for a design that I wanted, or overpaying for great quality in a style of jewelry that was not exactly what I had been looking for. I created Livie on the fundamental principles of feminine, edgy, minimal yet stylish jewelry that stands the test of time and ultimately makes its way into a woman's (or man's) daily essentials. I wanted the brand to be accessible and inclusive to all, offering trendy and timeless pieces with the quality to match without breaking someone's wallet.
How did you come up with the name for the company?
​LIVIE is named after someone very special in my life. My best friend Olivia passed away in a car crash when we were in high school and when it came to naming the brand this was the perfect way to honor her memory.
Where did you get your entrepreneurial spirit? Have you always wanted to be an entrepreneur?
​I always knew that working a traditional 9-5 for someone else was not my calling and that I would find myself on an entrepreneurial path somehow. My background and education was geared towards becoming a lawyer but the creative dreamer in me took a chance to do something less traditional.
The "no risk no reward" mentality is how I live my life and taking the leap to create a brand from the ground up was the best decision I could have made.
​What are your hidden inspirational sources?
​I am constantly inspired by everything that is around me. There is always some form of inspiration that I incorporate into our designs that I find in fashion, art, architecture, vintage archives and so many other sources. Our team is also always trend forecasting what is going on in the industry, what is popular on Pinterest and Tik Tok which gives us a lot of ideas and starting points when creating new drops. A big "hidden" source of inspiration for me when I design is also incorporating nature. You will find elements of it throughout all of our collections whether it is the flower in our NAVEE necklace or the sun pendant in the LUNA necklace.
Who is your biggest support when facing hardships in business?
​I am lucky to have a great support system around me when I may be facing hardships with the business. I believe it is very important to always be open and transparent when facing challenges and to ask for help. My family, my significant other/ friends who own businesses and the women on my team are all people I turn to. In order to be successful, I ask a lot of questions from other successful female entrepreneurs in my life as well. Reaching out to my mentors or others whose opinion I value always gives me a different perspective and a way to problem solve something that I may not be seeing myself.
​What's your way of hunting talents and building effective working teams to achieve great results?
​I have learned not to try and be good at everything. Let people be good at what they're good at and acknowledge areas that are not my expertise. Letting go of control and delegating to a team are essential in achieving great results. We are an all women team that works together to bring our collective vision to life while remaining authentic and creative. Finding individuals who are experts in their chosen fields and utilizing their talents in our projects is how we produce our best work. I want to empower women to support each other's talents so that we can all grow together – it is all about collaboration NOT competition. When looking for new talent to work with, we partner and hire creatives that are fellow women entrepreneurs. We also love working with people in our local network in Toronto whose vision and practices align with ours. We are always looking for new talent to work with!
Do you believe there is a winning formula for becoming a successful entrepreneur?
​I do not believe there is a winning formula to becoming a successful entrepreneur but that is the exciting part about it! No entrepreneur has the same path that gets him or her to where they are going and that is the beauty in the unknown. A female entrepreneur that I look up to, Jen Atkin, always says: "Be humble, work hard, and don't try to compete with anyone else; there's enough to go around for all of us to be successful. Don't expect success overnight." As long as you are focusing on your message and remain authentic to why you started and what you're putting out, only great things can happen.
​What has been your biggest challenge so far as a female entrepreneur?
​All entrepreneurs, male or female, face challenges along their journey in many different aspects. In my experience I found that women may feel as though they need to adopt a stereotypically "male" attitude toward business: competitive, aggressive and sometimes harsh. I am lucky to say that the industry I am in is full of strong hard working women and is not as male dominated as others. At times, especially in the beginning, there were moments where I struggled to gain respect and to be taken seriously by others. I remind myself that remaining true to yourself and finding your own voice are the keys to rising above any societal challenges that come along with being a boss babe.
Do you have any entrepreneurial tricks that have helped you stay focused and motivated?
​Stay true to yourself and your vision always. When things may not be going your way, or the business is not doing as great as you want it to, I remind myself why I started this journey in the first place. I also make sure that I don't let the Internet or social media rush me – we may be seeing someone's chapter 100 while we are still on chapter 10. I keep a list of goals and as a team we frequently reflect upon how we can get there together and what we need to do to grow. Great things take time to happen and I believe greatly in divine timing.
​If you could be any piece of jewelry, what would it be and why?
​Any Livie necklace stack of course! It is an easy way to elevate any outfit and make me look and feel put together and fabulous effortlessly.