March 2022
Our March Boss Babe has never been afraid to take the risks to build her business, and without compromising her personal life…​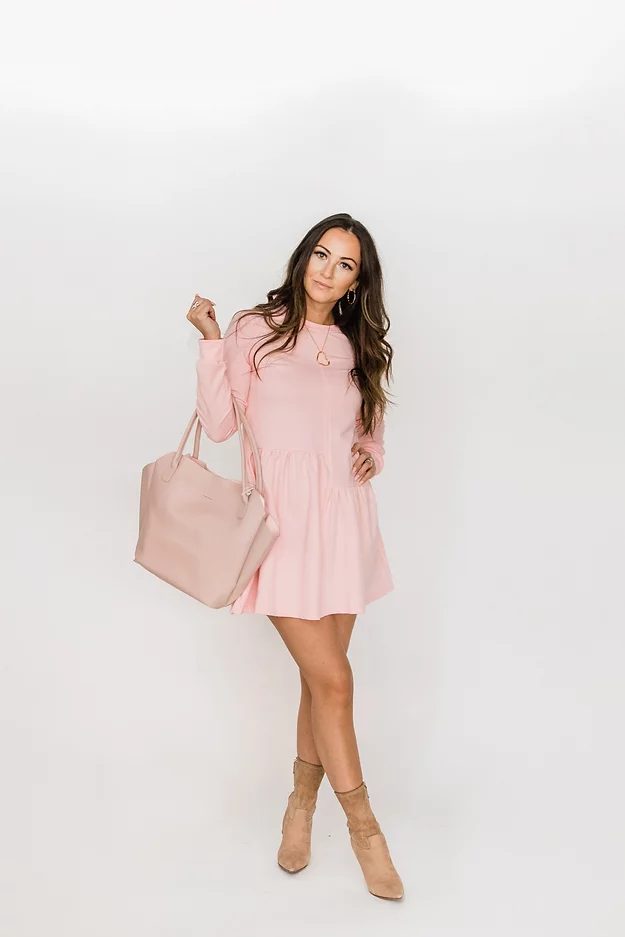 Jovana – you are the face behind Uni-Koncept boutique in Waterloo. Can you share with us how you got started with this business?
​I started Uni+Koncept in 2016 as a Lifestyle Boutique, and my personal 'happy-place' where I could curate all my favourite things from fashion, and beauty products, to accessories & some minor home décor. It was started as a passion business when I moved to Kitchener-Waterloo from Toronto to be with my now-husband. Soon after I realized that there was nowhere to shop for unique brands. Everything in KW felt like a franchise and I just wanted to have a fun feel-good retail experience that I couldn't get from the mall. A light went on! and I thought this is the perfect opportunity for me to use my Fashion Business degree, as well as my desire for seeking the latest and greatest in beauty & fashion.
​What has been your biggest achievement so far with your store?
My biggest achievement would be the community that I have built. I have had the pleasure of meeting some exceptionally amazing women. People know when they come to Unikoncept that they won't just be shopping by themselves, our staff make you feel like you are out and about with your bff. Not just that, but every customer who enters the store ends up communicating with each other. It's truly a safe place for everyone to gather and hang-out while playing dress up.
You're a superstar, juggling two young kids as well as a successful boutique. Can you share with us how you're balancing both full time jobs?
​I wish there was some secret formula. Honestly, it's VERY hard. I would say this past year and having two-under-two has been the biggest challenge of my life. The thing that keeps me going is the love that I have for my business, my customers, and this community. I have had to alter my business model slightly to adapt to the new normal, this has helped me with balancing work & homelife.
We are now open 3x per week to the public, and 2X per week appointment only. This allows me to set my schedule and not worry about being at the boutique as often as I used to be.
​Where did you get your entrepreneurial spirit? Have you always wanted to be a business owner?
​I don't know if I always wanted to be an entrepreneur. When I grew up, it wasn't so common for women to have businesses so I never had a role model to look up to. However, I always loved being a merchant. I love the idea of buying and selling. The exchange of goods and commerce is fascinating to me. If you think about it, we are taught to always sell. For example, if you want to go to the movies with your friends and they want to see one movie, and you want to see another, you have to sell them on the idea of seeing the option that you prefer. It may not be a physical item that you're selling, but our whole lives are based on presenting a certain idea that would be in our favour. I hope that makes sense.
What best motivates you? How have your entrepreneurial motivations changed since you first started?
​It has been HARD finding motivation this past year. I used to get super motivated after taking a vacation then coming back full of energy and ideas to implement, unfortunately there hasn't been travel for us recently. However, after the new year (2022), I woke up super excited and ready to commit to doing a full rebrand and implementing a new business model. This change has given me the inspiration and motivation that I needed. Plus spring is around the corner, which always gives me a little extra pep in my step.
​Who is your greatest support when facing hardships in business? 
​My husband is by-far my greatest supporter. He always encouraged me to follow through with my vision for the shoppe. He notices how much happier I am when I can go to work and interact with my customers, versus being at home all day with the kids. Don't get me wrong, being a mom is wonderful, but I truly believe that everyone needs to create something for themselves.
Do you believe there is a winning formula to becoming a successful entrepreneur?
​Yes! I truly believe if you are fundamentally building and marketing something that is an extension of who you really are, then no one can compete with that. UniKoncept is 100% an extension of me. Every life milestone that I have had, from engagement to marriage, fertility treatments to pregnancy, birth, and motherhood, has played a part in the product assortment in the shoppe. My customers have grown with me and most of the time we are overlapping in our life journeys. Sometimes some people fall-off the path, and new ones join. You can't win them all but the formula is to stay true to yourself.
If you could be any type of shoe, what would it be and why?
​If you asked me this in 2018 I would have said a Mary-Jane block heel shoe. These are probably my favourite go-to classic shoes. However, this year I'll have to say the Hermes Oran slides. They are iconic, comfortable, and most importantly flat so that I can run after my toddler while carrying 'all the things.' I'm also excited that we will be carrying the Karen Sandals by Jim Rickey which remind me so much of the Oran.
​